Here at the library, we are excited about the new gadgets that will soon come our way. We are getting a new Lulzbot 3D printer and a new Glowforge 3D Laser Printer.
Our new 3D printer will be able to print using up to four different colors of filament at the same time. If you want to see the 3D printer in action, you will be able to follow a link on our website to see a live stream from a webcam mounted on the printer.
The Glowforge 3D laser printer will be able to cut and engrave hardwood, plywood, leather, and acrylic. Visit https://glowforge.com/discover to see what sort of projects the Glowforge can create!
Grab and Go Teen Crafts
We are celebrating National Crafting Month with Grab and Go Crafts for Teens. During March, we will have a different craft each Monday, available for pick up throughout the week until supplies run out.
This week's craft will be scratch art cd's. Next week we will make posable yarn dolls.
Once you get your craft, go online to facebook, instagram, or twitter and find us, Liberal Memorial Library, to view our tutorial video on how to do the craft. The craft will include a paper tutorial, so viewing the video is optional.
Virtual Teen Otaku Club
Teens can attend our Virtual Otaku Club every third Wednesday of the month to discuss and enjoy anime and manga. The club will meet again on April 21st. Visit our website, lmlibrary.org, to sign up and get the Zoom link.
Online Library and Lunch
On Tuesday, April 13th at Noon, our book club will meet online to discuss "The Immortal Life of Henrietta Lacks" by Rebecca Skloot.
.
Ireland Fiction Display
Come into the library and check out our display of books that take place in Ireland or are by Irish authors.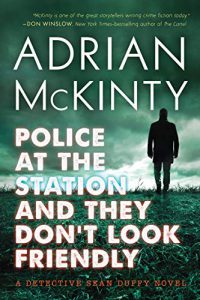 Police at the Station and They Don't Look Friendly: A Detective Sean Duffy Novel
by Adrian McKinty
Another thrilling mystery featuring Detective Sean Duffy and his most dangerous investigation yet
Belfast, 1988. A man is found dead, killed with a bolt from a crossbow in front of his house. This is no hunting accident. But uncovering who is responsible for the murder will take Detective Sean Duffy down his most dangerous road yet, a road that leads to a lonely clearing on a high bog where three masked gunmen will force Duffy to dig his own grave.
Hunted by forces unknown, threatened by Internal Affairs, and with his relationship on the rocks, Duffy will need all his wits to get out of this investigation in one piece.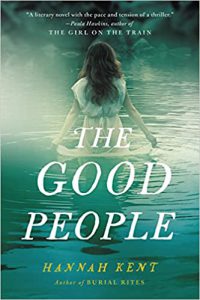 The Good People
by Hannah Kent
Three women in nineteenth-century Ireland are drawn together to rescue a child from a superstitious community.
Nora, bereft after the death of her husband, finds herself alone and caring for her grandson Micheal. Micheal cannot speak or walk, and Nora is desperate to know what is wrong with him. What happened to the health, happy grandson she met when her daughter was still alive?
Mary arrives in the valley to help Nora just as the rumors are spreading that Micheal is a changeling child who is bringing bad luck to the valley.
Determined to banish evil, Nora and Mary enlist the help of Nance, an elderly wanderer who understands the magic of the old ways.
Based on true events and set in a lost world bound by its own laws, The Good People is Hannah Kent's startling new novel about absolute belief and devoted love.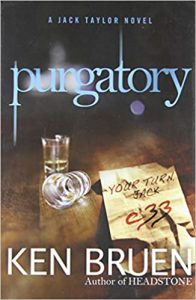 Purgatory (a Jack Taylor novel)
by Ken Bruen
Recovering from the severe mental and physical wounds inflicted from his recent past, former cop Jack Taylor has finally found peace. He has kicked substances that have had a stranglehold over his life. Yet this fragile existence is threatened when a vigilante killer begins targeting the scum of Galway, signing mysterious notes with the moniker 'C 33'. The killer addresses these cryptic letters to Jack, trying to goad him into joining the murderous spree.
With the help of his friends, former drug dealer-turned-zen master Stewart and dogged police sergeant Ridge, Jack is determined to track down C 33, even if it jeopardizes his livelihood, his friends, and the remaining shreds of his sanity. C 33 is Bruen at his best: lyrical, brutal, and ceaselessly suspenseful.
The Blind Astronomer's Daughter
by John Pipkin
In late-eighteenth-century Ireland, Caroline Ainsworth learns that her life is not what it seems when her father, Arthur, an astronomer gone blind from staring at the sun, throws himself from his rooftop observatory. His vain search for an unknown planet and jealousy over astronomer William Herschel's discovery of Uranus had driven him to madness. Grief-stricken, Caroline leaves Ireland for London.
But her father has left behind a cryptic atlas that holds the secret to finding a new world at the edge of the sky. As Caroline reluctantly resumes her father's work, she must confront her own longings, including her love for her father's former assistant, the tinkering blacksmith Finnegan O'Siodha. Then Ireland is swept into rebellion, and Catherine and Finnegan are plunged into its violence.
A novel about the obsessions of the age–scientific inquiry, geographic discovery, political reformation, but above all, astronomy–The Blind Astronomer's Daughter encapsulates the quest for knowledge and for human connection. It is rich, far-reaching, and unforgettable.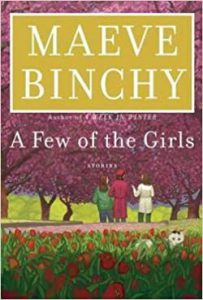 A Few of the Girls: Stories
by Maeve Binchy
From Maeve Binchy's earliest writings to the most recent, her work is filled with wisdom and common sense and also a sharp, often witty voice that is insightful and reaches out to her readers around the world and of all ages. Whether it is one of her best-selling novels or a short story, Maeve shows us that times may have changed, but people often remain the same: they fall in love, sometimes unsuitably; they have hopes and dreams; they have deep, long-standing friends whose secrets are shared; they go on holidays and celebrate new jobs . . .
A Few of the Girls is a glorious collection of the very best of her short story writing, stories that were written over the decades—some published in magazines, others for friends as gifts, many for charity benefits. The stories are all filled with the signature warmth and humor that have always been an essential part of Maeve's appeal.