It's almost time for kids to head back to school. For students, fall is a time of anticipation and excitement, as they gain a new teacher, new school supplies, new clothes, new classmates, new rules, and some even head to a new school. I thought I would tell you about a few good children's books about school from our collection: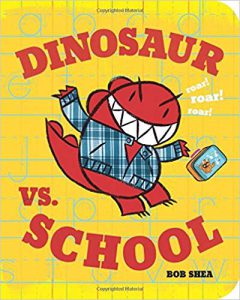 Dinosaur vs. School by Bob Shea (picture book)
Dinosaur is starting preschool today. ROAR! There are new friends to meet, dress-up outfits to wear, glitter and googly eyes to paste, musical instruments to play, and snacks to eat. What's not to like? But then, oh, no! It's Dinosaur vs. Clean-up Time! Fortunately, when friends work together, EVERYONE WINS!
The Little School Bus by Margery Cuyler (picture book): Join Driver Bob the school bus driver and his little school bus as they wake early, pick up the children, and drop them off at school. Then it's off to the garage to fix a tail light. All in a day's work for this trusty team. The lyrical text, catchy rhyme, and bright pictures make this a perfect choice for preschoolers who are soon to be school bus riders!
Monster School: First Day Frights by David Keane (easy reader): Norm is perfectly normal. That is, until he finds himself at a new school full of monsters. Without fangs, horns, or a tail, suddenly Norm has become the odd one out. But as the day goes on, Norm's unusual classmates find that Norm isn't too unlike them after all, and Norm thinks he may actually fit right in.
Bad Kitty: School Daze by Nick Bruel (illustrated chapter book): Kitty and Puppy are out of control! They're screaming, fighting, hissing, and drooling all over the house, and all of the commotion is upsetting Baby. Time for school—obedience school, that is. Can Kitty learn to follow the rules and make friends with the other students or will she bring chaos to the classroom? Find out in Bad Kitty's hilarious, new (mis)adventure!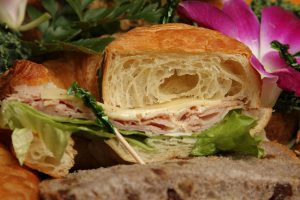 Plus, don't miss our fun events! Here's what's going on at the library for the rest of August:
We have Storytime twice a week: Tuesdays at 11 am and Thursdays at 5:30 pm. Join us for stories, songs, crafts, and more! Plus, every child gets a free book to take home at storytime.
Library and Lunch will be on Tuesday the 14th at noon. Bring your lunch and join our discussion of Ordinary Grace by William Kent Krueger.
Join us for movie night on Wednesday, August 15! Free popcorn will be served. Visit the library, our website, or our Facebook page to see what we're watching.
Back-to-School Saturday is on the 18th at 1:30 pm. Play games, make crafts, and get some FREE school gear! Space is limited, so register on our website
Recipe Swap is on Tuesday the 28th at 6:30 pm. Bring something you've made (along with the recipe) to share and enjoy everyone else's dishes! This month, we're making sandwiches.
So come to the library and check out a book or have fun at one of our events. We're your free source for education and entertainment!