Sign up is still going on for the Summer Reading Program at Liberal Memorial Library. There are programs for all ages (kids, teens and adults). You can sign up online or at the library.   Parents know that reading to their kids is important, so signing your children up for the Summer Reading Program is one way to reward them for reading (and it's free for you).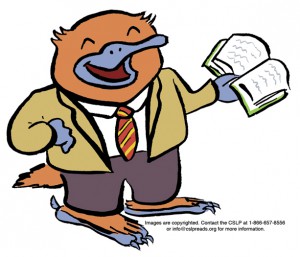 Here's how the program works – parents sign their children up at the Library and set a reading goal of at least ten hours. Read throughout the month of June. By July 8th, bring that log back to the library and get a free t-shirt for your child. It's that easy!
There is more to summer reading than just reading. Kids (and families) can come to all of the programming that we have going on at the library throughout the next five weeks. All of the programming is free, you don't have to register and if you haven't signed up for the reading part of the program, that's ok (although I will probably ask you to join).
Here's what we have going on in June for kids in Liberal. For more information, contact the library at 626-0180.
Hometown Heroes: Tuesdays in June @ 6:00 Come and meet some of Liberal's Hometown Heroes! Bring a blanket or lawn chair, because if the weather is good, we will be on the front lawn of the library! Each week is something new! Open to all ages.
Movie Fridays @ 2:00 Bring your friends to beat the heat and watch a movie. We'll have five different movies on Fridays during the month of June and on July 3rd. All movies are rated PG or G. Fresh popcorn and ice cold lemonade will be served, so bring your friends.
Medusa's Funky Hair – June 3rd @ 2:00. Superheroes need disguises, right? Learn new hairstyles, get a funky do or even get your hair colored temporarily with chalk! It's free and fun for girls and boys of all ages.
Truck Day – June 9th from 2:00 to 4:00. The parking lot is being taken over by rough and tough trucks. See some of the heavy duty trucks you see driving down the road up close and personal. Have all your questions answered by the people who drive them. Come any time between 2:00 and 4:00! Open to children of all ages.
Smoky Hills Public TV – June 10th @ 2:00. Smoky Hills Public TV is coming back to Liberal Memorial Library! This program is aimed at children 8 and under.
Mad Science – June 11th @ 4:00. Mad Science is showing off superhero science at the library. You'll see if superheroes really can fly and maybe see a few super powers demonstrated. Free and fun for children of all ages.
Beejays – June 16th @ 2:00. The Liberal Beejays are coming to the library to show off their baseball skills. Bring your glove and your questions! Open to children of all ages.
Southern Pioneer Electric Power Van – June 17th @ 2:00 and 3:00. Electro isn't the only one who can throw bolts of lightning! Join us to see electricity in action. Southern Pioneer is coming to the library for two presentations that will have you seeing flashes of lightning. You may even learn a bit about electricity! At 2:00, the program is inside and is aimed at smaller children. At 3:00 the action begins outside and is geared towards older children and teens, including what happens if you touch a power line (hot dogs are involved). These programs are free and open to children of all ages.
Rattlesnake Andy – June 23rd @ 2:00. Cobra has nothing on Rattlesnake Andy! Come and see some live snakes (we promise there won't be any live rattlesnakes!) Open to children of all ages.
Strong and Stretch – June 24th @ 2:00. Superheroes can stretch, bend, and have huge muscles. Test your superhero agility and strength by joining us for an afternoon workout. Open to children 8 and older.
Super Why – June 26th @ 1:30. Super Why is stopping by the Library. Join Whyatt, Red, and Princess Pea and then stay for the Friday movie at 2:00! Open to children of all ages.
Self Defense – July 1st @ 2:00. Learn how to get out of a scary situation! Join the Liberal PD with this program on self-defense for kids ages 8+.