Fall is just around the corner, but for many of us Fall starts when the kids go back to school and football is once again a fixture on the television screen and in stadiums around the state on Friday and Saturday nights. For me my favorite part of going to football games is tailgating. As a Chiefs and a Kansas State Wildcats fan, I have been the beneficiary and preparer of many a game day feast.  I am the person that gets called on to bring the bucket of chili and there is a good reason for that: My chili is the best chili that a living human has ever made in the history of chili. A bold boast to be sure, but my mom raised me always to be honest. (I must have fallen asleep when she mentioned modesty, but we can't all be perfect.)
The secret to my chili is something I call "Chief's Chili Mix". It sits in a big mason jar at the back of my spice cabinet and contains….. Well. I could tell you but my mom didn't raise a dummy.  My jar of secret ingredients has evolved over the years as I fine tune the recipe based on the evolution of my own personal taste and the suggestions of friends. The recipe has gone from being dry and not so spicy to more of a stew-like consistency with a kick.
Recently, I got a flyer dropped on my desk informing me of a cook-off in Seward County and for the first time in my life I thought that it would be fun to participate in such an event. The Seward County United Way Chili, Soups & Sweets Cookoff will be on September 19th  at Blue Bonnet Park starting at 11:30am.
It looks to be challenging as I have never made a batch for a competition and never a batch of 3 gallons.
With the challenge comes the desire to step up my game and luckily we have quite a few new cookbooks here at the library that I hope will help me bring home a trophy.
A Taste of Cowboy: Ranch Recipes and Tales from the Trail
by Kent Rollins
In the few short months that this cookbook has come out, it has proven to be one of my all time favorites. Full of rustic, down home recipes, the flavors introduced in this book are always spot-on and remind one of meals your grandfather would have cooked on the summer grill. Make sure you have some cast iron cookware on hand as Kent Rollins is big on taking cooking back to the tried and true days of the chuckwagon. Now we know why the cowboys faded away, too much of this food and you are not getting back on a horse anytime soon.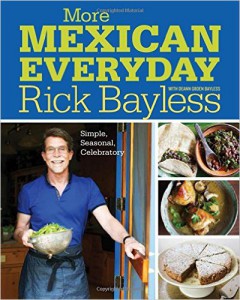 More Mexican Everyday
by Rick Bayless
For many of us our palate was forever changed when Rick Bayless released Mexican Kitchen in 1996. Rick brings the flavors of Mexico to life for those new to cooking with the wonderful ingredients native to Mexico and replete with the cooking methods needed to bring those ingredients to life. You never go with a recipe from his cookbook. My personal favorite is his recipe for Mustard Greens Soup with Poblanos and Almonds. Yummm!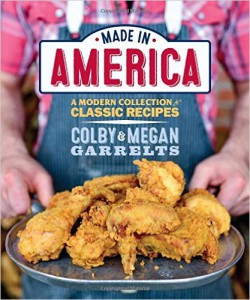 Made in America: A modern collection of classic recipes
by Colby and Megan Garrelts
This is the cookbook that I think everyone should have on their shelf.  My cooking bible is Fannie Farmer, but this is now in the number two spot. If you want to cook the food that makes you feel at home, in your back yard, with the kids running around, then this is the cook book for you. From cover to cover this cookbook is full of wonderful recipes for ribs, pork chops, fried chicken and apple pie.
These are the cookbooks that are currently influencing my cooking and will hopefully see me on the victor's platform at the United Way Chili, Soups & Sweets Cookoff. For more information on the event please see the entry form at www.scunitedway.com or call 620.624.5400.
There is a $25 entry free, but all proceeds go to the Seward County United Way 2016 Campaign and goes to support the work and services they provide to our community.