With Easter coming up in a few weeks, I wanted to recommend a couple of good Children's books about Easter: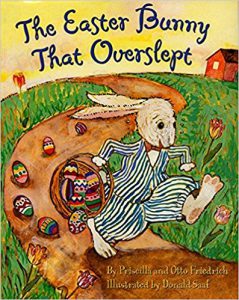 The Easter Bunny That Overslept by Priscilla Friedrich: One spring morning, the Easter Bunny skips merrily along to deliver his colorful, hand-painted eggs. But the children tell him that it's Mother's Day, which can only mean one thing: HE SLEPT THROUGH EASTER!
Nobody wants eggs on Mother's Day, or on the Fourth of July — and especially not on Halloween. Children will sympathize with the little bunny's plight and cheer when Santa finds the perfect gift to help!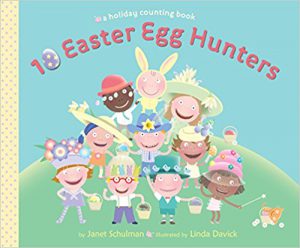 10 Easter Egg Hunters: A Holiday Counting Book by Janet Schulman: The adorable kids from 10 Trick-or-Treaters are back and they're counting their way to Easter!
Can you help them find all of the eggs the Easter Bunny has hidden in time for the Easter Parade?
Do your kids need something to do this week over Spring Break? Well, the library has you covered!
Monday at 2 pm: Make a fun craft!
Tuesday at 2 pm: Play our XBox, Playstation 4, or Wii!
Wednesday at 2 pm: Coloring!
Thursday at 2 pm: Build something great with Legos!
Friday: Play board games at 1 pm, followed by a fun animated kids' movie at 2 pm! Free popcorn and drinks will be served during the movie.
We have a lot of other fun stuff coming up through the rest of March:
Join us for Storytime Tuesdays at 11 am and Thursdays at 6 pm. Stories, songs, and a craft! Plus, every child gets a free book to take home.
Mexican Loteria is this Wednesday at 4 pm! Play the fun Mexican version of Bingo and enjoy free snacks. Sign up at the front desk.
Don't forget about our March Book Madness tournament! Vote for your favorites in three tournaments: Adult books, teen books, and kids' books. Turn in votes every week for a chance to win our weekly prize drawings! You can vote at the library, or on our website
Monday, March 19 at 6 pm: Come to our beginner's workshop to learn how to use the library's 3D printer. We will walk through the process of finding a print-ready file online that you can print as is or alter to fit your needs. Sign up online or at the front desk.
Adult Game Day is on Thursday, March 22 at 2 pm. Play Mexican Train Dominoes, Spoons, or the card game "5 Crowns."
Our Easter Eggstravaganza is on Saturday, March 24 at 1:30 pm! Kids of all ages and their parents are invited to join us for Easter crafts, stories, games, and prizes! Plus, every child gets a free book to take home.
Recipe Swap is on Tuesday, March 27 at 6:30 pm. Bring something you've made (along with the recipe) to share and enjoy everyone else's creations! This month, we're making freezer meal dishes.
The Library will be closed on Friday, March 30 & Saturday the 31st for Easter.