Events This Week
Tuesday at 11 am Storytime – Stories, songs, crafts, and more! Plus, every child gets a free book to take home at every storytime. Story times are open to children of all ages.
Wednesday at 11 am Lapsit Storytime – Special storytime for children ages 0-2. Come listen to stories, sing songs, and develop key literacy skills. Also, every child gets a FREE book to take home!
Thursday at 2 pm Spinning Yarns group – Do you love to crochet, knit, or do other needlework? Would you like to spend time with others who share your interest, give pointers, and socialize? Then come and join our Spinning Yarns group! Please bring your own materials. Beginners to experts are all welcome.
Thursday at 5:30 pm Storytime – If you can't make it to the morning storytime on Tuesday, you can come to the evening Thursday one instead. For children of all ages.
Thursday at 6 pm Movie – Come join us for a fun new animated movie! See the further adventures of Hiccup, Toothless and their dragon-riding friends.
More Events
Closed Memorial Day
The Library will be closed on Monday, May 27th for Memorial Day. We will be reopen on Tuesday for our normal hours, 9 a.m. to 8 p.m.
Recipe Swap
On Tuesday, May 28th at 6:30 p.m., join us for Recipe Swap and share your favorite recipe with fellow patrons who share your passion — cooking! Every month is a different theme. This month's theme is "National Hamburger and Salad Day".

Summer Reading Kick Off Party
Come to our Summer Reading Kick-Off Party to celebrate the beginning of Summer Reading on Monday, June 3rd this year.
Kid's birth to 11 years old can sign-up for summer reading online (http://lmlibrary.org/kids/summerreading/) or at the library. For teens, 6th – 12th grade, no sign-up is needed. Just come in to the library to get your Teen Summer Reading bingo card and find out how to get started.
We will have several special performers at the library during Summer Reading, including:
Friday, June 7th at 1:30 – Smoky Hills PBS Share-a-story
Thursday, June 13th at 1 pm – Eric Vaughn, comedy magician
Monday, June 17th at 2 pm and Monday, June 24th at 2 pm – Mythology Behind the Constellations,
teen program presented by Matthew McIntyre and Katie Rages
Friday, June 21st at 1 pm – Jammin' Randy, "Rockin' Through the Universe"
Wednesday, June 26th at 1 pm – Mad Science, Destination: Moon!
Tuesday, July 2nd at 1:30 – Dan Dan the Magic Man, "Cosmic Conjuring: A Universe of Magic"
Tuesday, July 9th
at 1 pm – Musician Aaron Fowler and Miss Bella, will share stories and songs. For ages 4 & up.
Wednesday, July 10th at 2 pm – Astronomy Class, teen program presented by Darrin Hook
Thursday, July 11th at 1 pm – Troy Graham, folk singer-songwriter, poet, children's entertainer
Friday, July 19 at 1:30 pm – Priscilla Howe, A Galaxy of Giggles
Summer Lunches
This summer, lunches will be served from 11:30 to 12:30, Monday – Friday in the Downstairs Activity Area at the Library. USD 480's Summer Food Service Program is open to all children and teens, ages 1-18. No registration or identification required. For more information, contact Connie Vogts at 620-604-1204.
1,000 Books Before Kindergarten
At the same time that Summer Reading is starting, we will also begin our 1,000 Books Before Kindergarten program. This free program encourages you to read 1000 books to your child before he/she enters school – a goal experts say children need to help them learn to read for themselves. Babies up to children not-yet-enrolled in kindergarten are invited to participate in this new free program. Stop by the library to sign up today! Your child will receive a prize after each 200 books he/she reads.
Smoky Hills PBS Share-a-story
On Friday, June 7th at 1:30 pm, Jennifer Hanson, a Share-A-Story Presenter from Smoky Hills PBS, will come to the library and read "There's No Place Like Space!" by Tish Rabe and each child will get a copy of the book to take home.
After that we will watch a fun video about gravity and make rockets out of construction paper.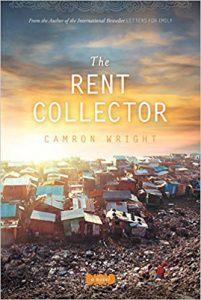 Library and Lunch book discussion
In June, we will discuss "The Rent Collector" by Camron Wright. We'll meet on Tuesday, June 11th ​at 12 p.m. Bring your lunch and join the discussion.