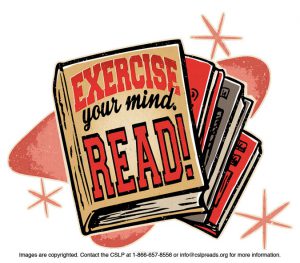 This month at the library, it's time for Adult Summer Reading! Make sure to sign up on our website at http://lmlibrary.org/adults/summerreading/ or at the library. Then, turn in a slip every time you finish a book, magazine, or audio book for a chance to win one of our weekly prize drawings!  Here's what's coming up for Adults this month:
Tuesday, August 16 at Noon: Exercise Your Mind: Prepare for the Fair! The Five-State Fair is at the end of August. Come learn about the fair and get help signing up your entries for the fair.
Wednesday, August 17 at noon and Thurs, Aug. 18 at 6 pm: Coffee & Crafts! This month, we'll be making stuffed sock animals! Create a fun animal for display or gifting. Teens & adults welcome.
Every Friday at 1 pm: Weekly drawing for prizes! Make sure you get in your entry slips before this time.
Tuesday, August 23 at Noon: Exercise your mind: Trivia Face-off! Come challenge your trivia knowledge to win prizes!
Tuesday, August 30 at 6:30 pm: Recipe Swap and End of Summer Reading Party! Bring a fair food, along with the recipe, to share and enjoy everyone else's creations! Bring your reading list with you, or turn in your list prior to the start of Recipe Swap. We will have the final prize drawing during this event. Do not have to be present to win.
We also have some fun events for kids and teens this month:
If your kid(s) read at least 15 hours this summer or your teen(s) earned at least 25 points, and you turned in their Summer Reading Log(s), don't forget to come pick up their prizes!  Prizes can also be picked up on the 18th at the High Readers' Party, for those attending.
Wednesdays at 4 pm: Lego day! Come use your imagination to build something great.
Thursdays at 11:15 am: Storytime! Join us for stories, songs, and a craft. All ages welcome.
Thursday, August 18 at 4 pm: High Readers' Party! If you got at least 50 stickers in the Children's Summer Reading Program or earned at least 50 points in the Teen Summer Reading Program, you are invited to a pizza party! Please email Elizabeth at childrens@lmlibrary.org if your kid(s) plan to attend. High readers will be entered into drawings for special prizes; you don't have to attend to win.
Fridays at 2 pm: Movie day! Watch a family-friendly movie and enjoy free popcorn and lemonade.
Thursday, August 25 at 4 pm: Teen Videogame & Tabletop Game Club. Play on our Xbox, Wii, or Playstation 4. Or, challenge your friends to Monopoly, Settlers of Catan, or one of our other board games. Or, get crafty!
There are a lot of fun ways to Exercise your Mind during the rest of August at the Library!