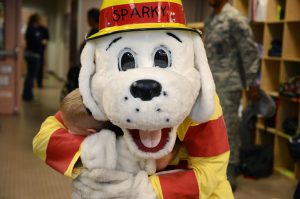 Fall has arrived, and it's a great time to curl up with some hot chocolate and a good book from the library! We even have audiobooks on CD and self-contained mp3 players, if you would rather listen to a story. And, don't forget about our wide selection of DVDs, if you want to watch a movie and relax.
If you would rather get out of the house, you can come to the library and have fun inside at one of our great events!  Here's what's coming up at the library in October:
Storytimes are Tuesdays at 10 am and Thursdays at 6 pm. Join us at Storytime for stories, songs, crafts, and more! Plus, every child gets a free book to take home at every Storytime.
We have a special Fire Prevention Month Storytime this Saturday (14th) at 1 pm! Come learn about fire safety with the Liberal Fire Department and Sparky the Fire Dog! Listen to stories, make a fun craft, and see a real fire truck!
Join our Beginning Computer Class every Tuesday at 11 am! It's a fun morning of learning how to use a computer, presented in both English and Spanish. For more information, call us at 626-0180.
Come to our Beginner's 3D Printing Workshop on Monday the 16th at 6 pm to learn how to use the library's 3D printer. We will walk through the process of finding a print-ready file online that you can print as is or alter to fit your needs. Sign up online or at the front desk.
The Friends of the Library are having a Book Sale Oct. 16 – 20th! Monday evening, October 16th from 6 pm – 8 pm, will be the Book Sale reception for Friends of the Library and Library Board members only. The Book Sale will be open to the public Oct. 17-20 during regular library hours. Books will sell for $1.00 each on Tuesday and Wednesday. On Thursday everything will be 1/2 price. Everything that's left on Friday will be free. Funds from the Book Sale go to the Friends to help support library programs including Baby's Bookshelf, Budding Bookworms, and our Summer Reading Program.
Tuesday, October 17 at noon is Library & Lunch! Bring your lunch and join us for a discussion of the books Welcome to Harmony, Sunrise Crossing, and Wild Horse Springs by Jodi Thomas.
USD 480 has no school on Oct. 20 and 27. We will be playing board games at 1 pm on those Fridays, followed by a family-friendly, Halloween-themed animated film at 2 pm! Free popcorn and drinks will be served during the movie.
Join us for our popular dice game, Bunco, on Thursday, Oct. 26 at noon! Registration is required, so talk to Shannon! Adults only, snacks provided.
Our Halloween Party for all ages will be on Saturday the 28th at 2 pm. Wear your Halloween costume! Make slime, play games, listen to spooky stories, and get candy!
This month's Recipe Swap is on Monday the 30th at 6:30 pm! Bring something you've made (along with the recipe) to share and enjoy everyone else's creations! This month, we're making Halloween food.