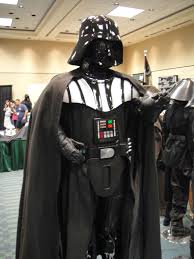 Our second annual comicon is less than a week away! I'm as excited as I can be, and I am hoping you are too. Last year we had a door count of around three thousand, and I hope we can break that this year! In fact, I want everyone in Liberal to stop by, if even for a little bit on their busy Saturday morning.
One great reason to come: our mayor, Joe Denoyer and the city council have declared Liberal to be the Crossroads of Fandom for May 7th, the day of the comicon. And we are! You don't have to try hard to find someone around you who loves something from pop culture. It's the mythology of our age, it's our comfort food, and it's a thing that can give us great joy and build community with other people who love what we love.
Besides games and prizes, we have panel discussion and costume contests and choosing the best super hero. Everything from superhero storytime to pictures with Darth Vader will be happening, and there is something for all ages.
The best part? You don't need to be a kid, or a comic fan to come out and have fun. Comics aren't just for kids, even though there are enough superhero cartoons and comics to keep any child busy. They're for adults too, and while you're here, you can check out our young adult and brand new adult (grownup) graphic novel sections.
But if you're not a fan of comic characters, that's ok too. We are happy to have fans of anything come to celebrate with us! Children's cartoons, science fiction, fantasy, Adventure Time, Outlander, BBC Sherlock, Doctor Who… if you can think of it, and if you love it, this con is the place for you! We will be celebrating the things we love fanatically with others who understand our passion.
I hope you will come out and join in the fun with a t-shirt or costume that shares your media loves, or that you just visit us and enjoy the spectacle. Enjoy video or tabletop games, life-sized Candyland, movies and TV shows, and adult coloring. We have something for everyone, even a new quiet space for when the library gets too rowdy.
We hope that everyone who visits will go home with a comic or poster, maybe a prize or two, and plenty of memories. All of my best con experiences have been when I have met wonderful people who love the same pop culture things I do, and made lasting friendships or shared moments of laughing or bemoaning the very things we love. Hopefully you will go home with a story or two to share with friends, and will be ready to come back next year!