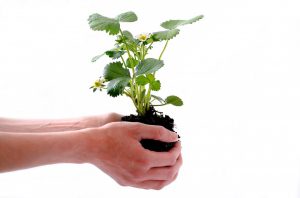 Did you know you can adopt a plant at the library? Anyone can  come to the front desk and adopt a plant. You'll be able to water your little guy and watch him grow, right here at the library. We have plenty of sunlight and air conditioning to make sure your new baby vegetables don't wilt in the extreme summer heat while they make their first attempts to break the surface of the earth. Then, at the end of the summer, plants will be available to go home with their adoptive parents.
That's one of the many activities we have happening at the library over the rest of the summer. This coming week alone, we have our Recipe Swap (the theme is easy-to-make cold foods), our story times (Tuesday/Thursday at 11:15 and 2) and our Tuesday/Thursday Young Adult clubs. This week we are hosting Smoky Hills Public Television's Curious George program, and we'll also be showing an animal-related animated film for our Friday Game-And-Movie day.
So much is happening at the library this summer that we want to share with everyone! Everything from a chance to have a one-plant garden to guests like Rattlesnake Andy, Rine's Karate, and our local baseball team, the Beejays. All of the fun isn't for the kids, either. We have a monthly Bunco tournament, Coffee and Crafts meets twice a month, plus our book club and our Recipe Swap, which is the tastiest program at any library around.
We want to keep people learning and active this summer by capturing the imagination and the attention of all of our patrons. So if you don't have a little one to bring to storytime, and no young adults for Video & Board Game Club, there is still a lot of fun to be had over the rest of the season.
And I'd like to just take this opportunity to mention that we have air conditioning. Please come in and get out of the heat. And while you're here, check out a fun book or movie, or participate in one of our many programs!