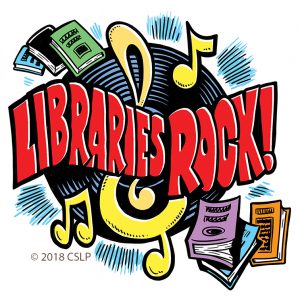 "Libraries Rock!" this summer, and we have a lot of fun events for all ages going on at the library! Here's what's coming up in June:
It's not too late for kids ages 0-11 years old to sign up for our Summer Reading Program! If they read (or are read to) at least 25 hours over the course of the summer (until July 28), they get a prize! Sign up at the library or on our website, lmlibrary.org
Kids 18 & under can get a free sack lunch every Monday – Friday, 11:30 am – 12:30 pm at the library. No registration or identification is required.
Young Adults ages 12 & up, play Yu-Gi-Oh on Mondays at 6 pm!
Young Adults (ages 12-19) get a scratch ticket every time they check out a book or come to a Summer Reading Event (limit 2 tickets per day). Scratch for a chance to win a cool prize, including free food, a fidget cube, a Bluetooth speaker, and more!
We have three weekly storytimes with stories, songs, and a craft. Children ages birth – 3 years are invited to storytime on Tuesday at 11 am. Ages 4 -6 are invited to storytime on Thursday at 11 am. All ages are invited to storytime on Thursdays at 6 pm. And remember, every child gets a free book at storytime!
Library & Lunch is on Tuesday at noon. Bring your lunch and join our discussion of the book Orphan Train by Christina Baker Kline.
Wednesday at 1:30 pm, Smoky Hills PBS presents a special Daniel Tiger storytime for ages 3-7! Listen to a story, watch a video, and make a craft.
Young Adults ages 12 – 19, come play our Wii, Xbox, or Playstation 4 at YA Video Games. Every Wednesday at 4 pm.
We also have fun crafts for Young Adults every other Wednesday at 4 pm, including this Wednesday!
Thursday at 1 pm, make a Record Clock! Adults only.
Adults, don't forget to turn in slips for books you've read and tour stops you've completed by Friday at noon to enter our weekly drawing!
Friday Fun Day is every Friday at 2 pm! This week, we'll be watching a fun children's animated movie. Free popcorn and lemonade will be served. Next week at Friday Fun Day, play our Xbox, Playstation 4, or Wii!
Get your hair styled in a cool 'do at Rock Star Hair Styling, Monday the 18th at 1:30 pm.
Tuesday, June 19 at 6 pm, watch a fun Marvel movie! Bring your lawn chair and enjoy free popcorn.
Listen to Celtic Knot perform on Thursday, June 21 at 6 pm! Shawn and Allison Reynolds will perform traditional Celtic folk music from the British Isles and beyond.
Recipe Swap will be on June 26 at 6:30 pm. Bring something you've made (along with the recipe) and enjoy everyone's dishes! This month, we're making dishes with 5 ingredients or fewer.
Dan Dan The Magic Man brings his magical, musical tour to the library on Friday, June 29 at 2 pm!
Watch our website, lmlibrary.org or our Facebook page (search "Liberal Memorial Library") for reminders and updates on all our events!