Fall is here, and there are a lot of fun things going on at the library this month!
We have Storytimes twice every week, on Tuesdays at 6 pm and Thursdays at 11:15 am. Kids of all ages and their parents can join us for stories, songs, and a craft. It's a fun way to learn early literacy skills.
If your kid loves Legos, they should come to our weekly Lego Day, every Wednesday at 5 pm! Kids can use their imaginations to build something wonderful.
For teens, we have our Tabletop & Video Game Club every week on Thursdays at 5 pm! Come play our Wii, Xbox, Playstation 4, or one of our many board games. Or, make a craft.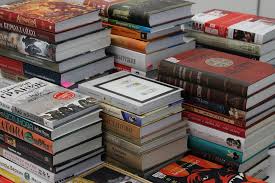 This coming week is our Book Sale! Come in Monday through Friday when the library is open to find some great used books for low prices! On Monday, the Book Sale is restricted to the Friends of the Library only. Books will sell for $1.00 each on Monday and Tuesday. On Wednesday, everything is half-price. Thursday and Friday, fill a bag with books for $1.00!
Tuesday, adults can enjoy Library and Lunch at noon. Bring your lunch and join in a discussion of the book The Charm Bracelet by Viola Shipman.
Adults and teens, join us Tuesday the 11th at 6 pm or Wed. the 26th at noon for "Want to Write a Novel?" You'll learn how to write a novel in only one month! Get ready for November, which is National Novel Writing Month, and see a published novel written during NaNoWriMo. Fanfiction welcome!
The Liberal Fire Department will be coming to the library for a special storytime on Thursday, the 13th, at 11:15 am! Firefighters and Sparky the Fire Dog will teach us about fire safety.
On Saturday at 2 pm, author Sheyvette Dinkens will be signing her book, Bruised But Not Broken. This coming-of-age story explores the indefinable something that Bleu carried throughout her life that led her to college, through career challenges, and finally to a leadership role in her community — despite a chaotic and troubling (yet crazily loving) childhood. See Sheyvette's website at http://www.sheyvettedinkens.com for more information on both the author and her book.
Next Tuesday, the 18th, at 6 pm, teens can join our Teen Advisory Meeting! They can tell the library what to do and help us plan and execute future events. Teens can also receive community service hours for attending this meeting.
Our monthly Coffee & Crafts session will be on Wednesday the 19th at noon. Adults and teens, relax and enjoy some coffee while you make fun Halloween Pinecone Decorations! Sign up online at http://lmlibrary.libcal.com/event/2851104