If you've heard about the library's new 3D printer and want to learn more about it, come to one of our beginner's 3D printing workshops. They are held on the first and third Monday of every month at 6:00 p.m. Our next workshop will be on Monday, November 7th. Seating is limited. Signup in person at the library, online at http://lmlibrary.org, or by phone 626-0180.
What's happening at the library this week
Tuesday at 6:30 pm Recipe Swap – Bring something you've made (along with the recipe) to share and enjoy everyone else's creations! Every month is a different theme. This month's theme will be "Bread and Soup".
Tuesday at 6 pm Storytime – If you can't make it to the morning storytime on Thursday, you can come to the evening Tuesday one instead.
Wednesday at noon Want to Write a Novel? – Get ready for November's National Novel Writing Month and see a published novel written during NaNoWriMo! Fanfiction welcome!
Wednesday at 4 pm Lego Day – Kids, come use your imagination to build something great!
Thursday at 11:15 am Storytime – Listen to stories, sing songs, and do a craft. Storytimes are open to children of all ages.
Thursday at 4 pm Teen Video and Tabletop Game Club – Come play our Wii, Xbox, Ps4, or one of several fun board games.
Friday at 2 pm Movie – Kids, there's no school on Friday so join us for a movie day.Saturday at 1 pm Family Halloween Party – Celebrate Halloween with games and a craft! Fun for the whole family!
Ghost Stories and Haunted Houses
There are all kinds of ghost stories; from spooky haunted house stories that make you want to sleep with the lights on, to stories about friendly spirits who need a little help crossing to the other side. Check out our book display to find a few ghost stories that appeal to you.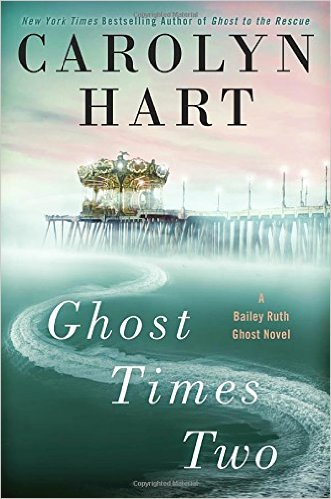 Ghost times two
by Carolyn Hart
From the book description
Bailey Ruth Raeburn's latest mission is to guide the happy-go-lucky spirit of a deceased young man named Jimmy to the next life. But Jimmy is determined to watch over his still-living girlfriend, Megan, whom he wants to be happy even without him–which is easier said than done.
As if being haunted by her late boyfriend wasn't enough, Megan is dealing with an arrogant, manipulative senior partner who threatens to fire Megan's vulnerable secretary if Megan accepts a partnership at another law firm. She's in an impossible bind.
Since Jimmy refuses to move on while Megan is being blackmailed, Bailey Ruth agrees to help him. But after the partner turns up dead and Megan is found at the crime scene, Bailey Ruth and Jimmy have to find a way to uncover a killer before the love of Jimmy's life is ordered to spend a lifetime behind bars…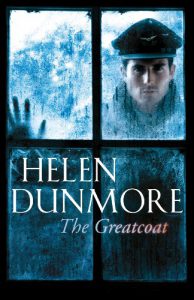 The greatcoat : a ghost story
by Helen Dunmore
From the book description
It is the winter of 1952 when Isabel Carey moves to the East Riding of Yorkshire with her new husband, Philip, a medical doctor. While Philip spends long hours working away from home, Isabel finds herself lonely and vulnerable while she adjusts to the realities of being a housewife in the country.
One evening, while Philip is on call, Isabel is woken by intense cold. When she hunts for extra blankets, she discovers an old RAF greatcoat hidden in the back of a cupboard. Sleeping under the coat for warmth, she starts to dream and is soon startled by a knock at her window. Outside is a young RAF pilot wearing a coat the bears a striking resemblance to the one draped over Isabel's shoulders. His name is Alec and his powerful presence disturbs and excites her as they begin an intense affair. Nothing though has prepared her for the truth about Alec's life, nor the impact it will have on her own.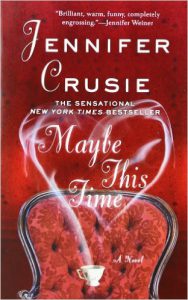 Maybe this time
by Jennifer Crusie
From the book description
Andie Miller is ready to move on with her life. She wants to marry her fiancé and leave behind everything in her past, especially her ex-husband, North Archer. But when Andie tries to gain closure with him, North asks one last favor. A distant cousin has died and left North the guardian of two orphans who driven away three nannies already, He needs someone to take care of the situation, and he knows Andie can handle anything.
When Andie meets the two children, she realized the situation is much worse than she feared. Carter and Alice aren't your average delinquents, and the creepy old house where they live is being run by the worst housekeeper since Mrs. Danvers.
Then her ex-brother-in-law arrives with a duplicitous journalist and a self-doubting parapsychologist, closely followed by an annoyed medium, Andie's tarot card-reading mother, her avenging ex-mother-in-law, and her jealous fiancé. Just when Andie's sure things couldn't get more complicated, North arrives to make her wonder if maybe this time things could just turn out differently…