At the library, we have a lot of great events for all ages. Here's what's coming up at the library:
Monday, USD 480 students are off from school. Come play board games at 1 pm, followed by a family-friendly movie at 2 pm! Free popcorn and drinks will be served during the movie.
Tuesdays at 10 am and Thursdays at 6 pm, join us for Storytime! Listen to stories, sing songs, make crafts, and more! Plus, every child gets a free book to take home with them, thanks to our Budding Bookworms program.
This Tuesday, the library will be holding a voter registration drive for National Voter Registration Day. If you have moved, changed your name, newly turned 18, or if you are a newly naturalized citizen, you may need to register or update your voter registration! Come to the library Tuesday and we can help you get registered.
Recipe Swap is on Tuesday at 6:30 pm. Bring something you've made (along with the recipe) and enjoy everyone else's dishes! This month, we're making Italian food.
Have you ever wanted to learn how to use a 3D printer? Then come to our Beginner's 3D Printing Workshop, Monday, Oct. 2nd or 16th at 6 pm! Seating is limited, so sign up on our website at: http://lmlibrary.libcal.com/event/3541332
Saturday, October 14 at 1 pm, join us for a special Fire Prevention Storytime! The Liberal Fire Department will be here, along with Sparky the Fire Dog!
Since this Saturday is the Duck Festival, I thought I would recommend a few good books about ducks!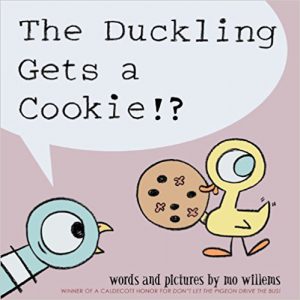 The Duckling Gets A Cookie!?
By Mo Willems
The pigeon from "Don't Let the Pigeon Drive the Bus" is back, in all of his indignant, passive-aggressive glory. He is overwrought this time at one gross injustice: a cute little duckling is now on the scene and has been rewarded a cookie (with nuts) for doing nothing more than asking for it politely. Pigeon pulls out all of the usual pigeon stops—coy glances, cartwheels, and crocodile tears—in the hopes of securing a cookie for himself . . . but will it work?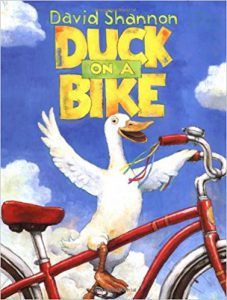 Duck on a Bike
By David Shannon
Duck decides to try and ride a bike and soon influences the rest of the farmyard animals to try after a group of kids leaves their bikes outside the farmhouse. "[T]he result is one swell read-aloud, packed with freewheeling fun," says Cahners Business Information.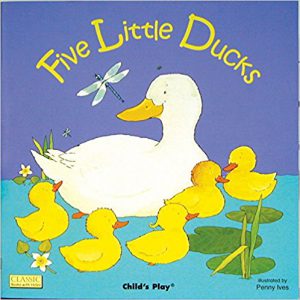 Five Little Ducks
By Ivan Bates
Mother duck and her five fuzzy little ducklings venture out for a long walk one lovely spring day. One by one each plump little duckling wanders off in search of a very special present. When all have disappeared, lonely mother duck lets out a very sad quack and all her ducklings come waddling back! Each proudly carries a wonderful and thoughtful surprise for loving mother duck. A favorite children's song brought to life with irresistible illustrations.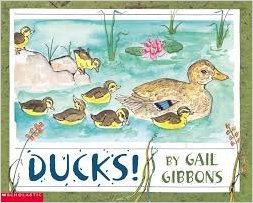 Ducks!
By Gail Gibbons
This non-fiction book describes how ducks swim, dive, feed, communicate, build nests, and raise their young as well as offers information about how conservation groups are trying to protect many ducks and their habitats. Kirkus Reviews says, "Young readers will enjoy this appealing introduction to the familiar waterfowl by the prolific science writer."