What's happening this week at the Library
Tuesday at Noon Library and Lunch – Bring your lunch and join in on the conversation. The September book discussion pick is "Hidden Figures" by Margot Lee Shetterly.
Tuesday at 10 am Storytime – This week daytime storytime is starting its new day and time. Listen to stories, sing songs, and do a craft. Storytimes are open to children of all ages.
Thursday at 6 pm Storytime – If you can't make it to the morning storytime on Tuesday, you can come to the evening Thursday one instead.
Saturday at 1 pm Mexican Independence Day Party – Kids, celebrate Mexican Independence Day at the library. Make a craft, play games, and enjoy free food & drinks!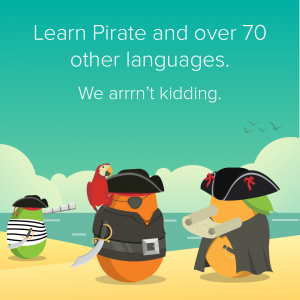 Talk Like a Pirate
Ahoy mateys! Breakout your tricorne hat, eyepatch, and stuffed parrot. Next Tuesday, September 19th is International Talk Like a Pirate Day.
Be the best-spoken pirate on the block once you've taken advantage of the Pirate language course from Mango Languages. Mango Languages is offered free to Kansas residents through the State Library of Kansas. Just go to http://kslib.info/mango get started.
Besides learning to speak like a pirate, you can also choose from more than 70 other language courses. Have you always wanted to learn, French, German, Mandarin Chinese, or Spanish? Maybe you'd like to brush up on your American Sign Language. Or maybe you're drawn to something a bit more unusual. How about learning Ancient Greek, Biblical Hebrew, Scottish Gaelic, or Shakespearean English?
Pirate Books
Check out a few of these pirate themed books.
Pirate hunters : treasure, obsession, and the search for a legendary pirate ship
by Robert Kurson
Finding and identifying a pirate ship is the hardest thing to do under the sea. But two men—John Chatterton and John Mattera—are willing to risk everything to find the Golden Fleece, the ship of the infamous pirate Joseph Bannister. If Chatterton and Mattera succeed, they will make history—it will be just the second time ever that a pirate ship has been discovered and positively identified…But it's only when they learn to think and act like pirates—like Bannister—that they become able to go where no pirate hunters have gone before.
Fast-paced and filled with suspense, fascinating characters, history, and adventure, Pirate Hunters is an unputdownable story that goes deep to discover truths and souls long believed lost.
The only pirate at the party
by Lindsey Stirling and Brooke Passey.
From the book description
Dancing electronic violinist Lindsey Stirling shares her unconventional journey in an inspiring memoir. A classically trained musician gone rogue, Lindsey is the epitome of independent, millennial defined success: after being voted off the set of America's Got Talent, she went on to amass more than ten million social media fans, record two full-length albums, release multiple hits with billions of YouTube views, and tour sold-out venues across the world.
Golden Lion
by Wilbur Smith
From the book description
He saw his father executed in battle. He spent his youth avenging that death. And now Henry "Hal" Courtney is a man with a ship – and a family – of his own.
But fate had not finished with Hal. On a voyage among the eastern shore of Africa, a powerful enemy abducts his wife, the fearless warrior Judith… and with her Hal's unborn child. Hal must track his nemesis across desert and ocean, through the slave markets of Zanzibar and the dangerous waters of the coast, in pursuit of the woman he loves, the child he sired, and the glorious destiny that awaits him.
Bursting with action and suspense, heroism and heartache, this unforgettable novel proves once more that Wilbur Smith is the world's greatest adventure writer.
Pirate
by Clive Cussler
From the book description
Going on a treasure hung. X marks the spot. It's a children's rhyme for a reason. While wealth can be lost or stolen, and even found again – if husband-and-wife treasure hunters Sam and Remi Fargo are on the case – a long-forgotten map is just the stuff of bedtime stories. Like Long John Silver and Robin Hood.
But when Sam and Remi try the unthinkable – a relaxing vacation and a visit to a rare-book store – a very real dead body suggests what they hold in their hands is an actual, ink-on-paper guide to a historic fortune.
Buzzing with Sam and Remi Fargo's chemistry and wit, Pirate reinvents the classic treasure hunt as only a Clive Cussler adventure can.