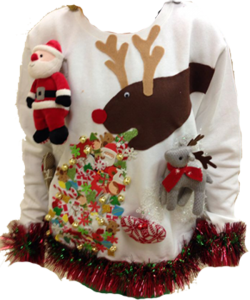 Events This Week
Tuesday at 11 am Storytime – Stories, songs, crafts, and more! Plus, every child gets a free book to take home at every storytime. Story times are open to children of all ages.
Tuesday at Noon Ugly Christmas Sweater Party – Wear an ugly Christmas sweater for this fun party for adults! Participate in a White Elephant gift exchange, play games, and eat snacks. Adults only. Seating is limited. Sign up online or at the front desk.
Thursday at 5:30 pm Storytime – If you can't make it to the morning storytime on Tuesday, you can come to the evening Thursday one instead.
Saturday at 3 pm Movie – Vote ahead of time for which holiday movie you want us to show. Vote in person at the Library or on Facebook. Free popcorn! Feel free to bring your own soda and even a pillow, blanket, or chair to be comfortable!
Holiday closed days
The Library will be closed Monday, December 24th through Wednesday, December 26th for the holiday. We will reopen for normal hours on Thursday, 27th – 9:00 a.m.- 8:00 p.m
We will close early at 1 pm for New Year's Eve on Monday December 31st and be closed on New Year's Day, Tuesday, January 1st. We will reopen for normal hours on Wednesday, 2nd – 9:00 a.m.- 8:00 p.m.
Holiday Fiction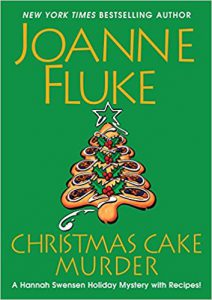 Christmas Cake Murder (A Hannah Swensen Mystery)
by Joanne Fluke
From the book description
It's Christmas many years ago, and topping young Hannah Swensen's wish list is becoming the go-to baker in Lake Eden, Minnesota. But as Hannah finds out, revisiting holiday memories can be murder . . .
With her dream of opening The Cookie Jar taking shape, Hannah's life matches the hectic December hustle and bustle in Lake Eden—especially when she agrees to help recreate a spectacular Christmas Ball from the past in honor of Essie Granger, an elderly local in hospice care. But instead of poring over decadent dessert recipes for the merry festivities, she instantly becomes enthralled by Essie's old notebooks and the tale of a woman escaping danger on the streets of New York.
Hannah's surprised by Essie's secret talent for penning crime fiction. She's even more surprised when the story turns real. As Hannah prepares to run a bakery and move out of her mother's house, it'll be a true miracle if she can prevent another Yuletide disaster by solving a mystery as dense as a Christmas fruitcake . . .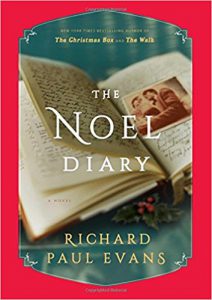 The Noel Diary
by Richard Paul Evans
From the book description
Romance author Jacob Churcher hasn't been home for almost twenty years—not since his mentally ill mother kicked him out of the house when he was just sixteen. When a lawyer calls, days before Christmas, to inform him that his estranged mother has passed away and left her house to him, Jacob returns not just to settle the estate but to try and reconcile with the past and the pain and abuse he experienced as a child.
But as it turns out, the house holds more than just difficult memories. Jacob uncovers many puzzling items including a diary left by someone named Noel, who stayed with Jacob's family during her pregnancy and Jacob has an unexpected visitor, Rachel, a woman looking for the mother who put her up for adoption thirty years before.
United by their quest to make sense of the past and rewrite their futures, Jacob and Rachel begin a search for Noel. Along the way they find more than they possibly imagined, including grace, forgiveness and a chance at love.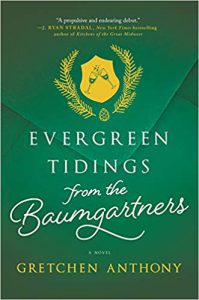 Evergreen Tidings from the Baumgartners
by Gretchen Anthony
From the book description
A formidable matriarch learns the hard way that no family is perfect in this witty, sparkling debut novel.
Dearest loved ones, far and near—evergreen tidings from the Baumgartners!
Violet Baumgartner has opened her annual holiday letter the same way for the past three decades. And this year she's going to throw her husband, Ed, a truly perfect retirement party, one worthy of memorializing in her upcoming letter. But the event becomes a disaster when, in front of two hundred guests, Violet learns her daughter Cerise has been keeping a shocking secret from her, shattering Violet's carefully constructed world.
In an epic battle of wills, Violet goes to increasing lengths to wrest back control of her family, infuriating Cerise and snaring their family and friends in  very un-Midwestern, un-Baumgartner  dramatics. And there will be no explaining away the consequences in this year's Baumgartner holiday letter…
Full of humor, emotion and surprises at every turn, Evergreen Tidings from the Baumgartners brings to life a remarkable cast of quirky, deeply human characters who must learn to adapt to the unconventional, or else risk losing one another. This is the story of a family falling to pieces—and the unexpected way they put it all back together.