Online Crafts and Storytime
All through the month of October, we will be showcasing a different Halloween craft tutorial video each Friday at 3 pm on our Facebook page.
We also will continue to have our Facebook Live Storytimes on Mondays, Wednesdays, and Fridays at 4 pm in English and on Tuesday and Thursdays at 4 pm in Spanish. Catch them live or watch the recordings later.
Art Display in the Teen Area
Stop by the library to see the lovely display of still life and watercolor paintings on the wall in the Teen area. The art was provided to us by the Seymour Rogers middle school art class. We are looking forward to adding to the display as the school year progresses.
Halloween Virtual Escape Room
Watch our Facebook page and website for an upcoming online event. We are developing a Halloween themed virtual escape room based on a popular scary movie. Follow the clues to escape the room before the villain catches you!
Online Library and Lunch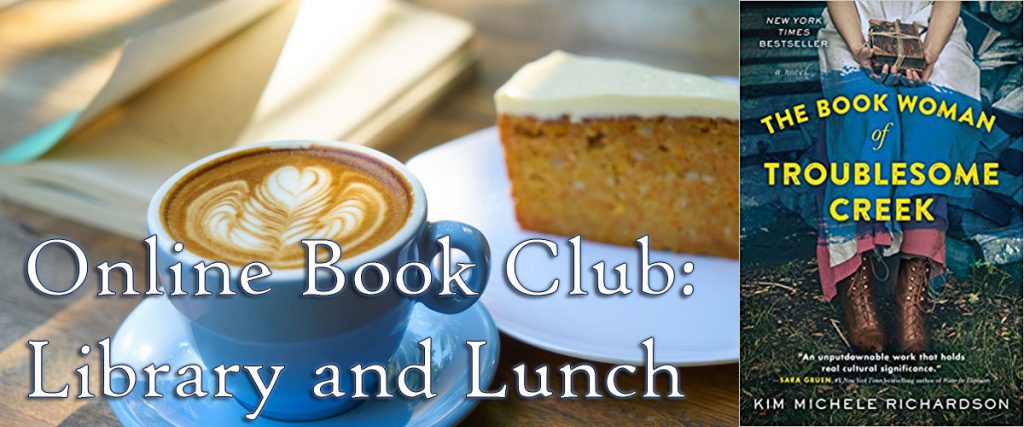 On Tuesday, November 10th at Noon, our book club will meet online to discuss "The Book Woman of Troublesome Creek" by Kim Michele Richardson.
A Spooky Book Display
If you're in the mood for a scary book that will keep you up at night, or you prefer a Halloween themed cozy mystery, then check out our Halloween book display.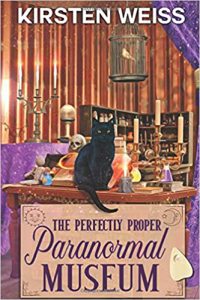 The perfectly proper paranormal museum
by Kirsten Weiss
When Maddie Kosloski's career flatlines, she retreats to her wine country hometown for solace and cheap rent. Railroaded into managing the local paranormal museum, she's certain the rumors of its haunting are greatly exaggerated. But then a fresh corpse in the museum embroils Maddie in murders past and present, making her wonder if a ghost could really be on the loose.
Maddie grapples with ghost hunters, obsessed taxidermists, and the sexy motorcyclist next door as outside forces threaten. And as she juggles spectral shenanigans with the hunt for a killer, she discovers there truly is no place like home.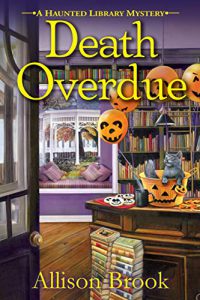 Death overdue
by Allison Brook
Carrie Singleton is just about done with Clover Ridge, Connecticut until she's offered a job as the head of programs and events at the spooky local library, complete with its own librarian ghost. Her first major event is a program presented by a retired homicide detective, Al Buckley, who claims he knows who murdered Laura Foster, a much-loved part-time library aide who was bludgeoned to death fifteen years earlier. As he invites members of the audience to share stories about Laura, he suddenly keels over and dies.
The medical examiner reveals that poison is what did him in and Carrie is determined to discover who murdered the detective, convinced it's the same man who killed Laura all those years ago. Luckily for Carrie, she has a friendly, knowledgeable ghost by her side.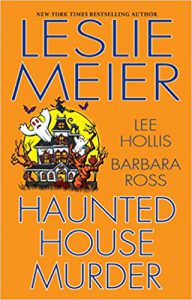 Haunted house murder
by Leslie Meier, Lee Hollis, and Barbara Ross.
Tricks and treats keep the Halloween spirit alive in coastal Maine. But this year the haunted house theme is getting carried a little too far . . .
Haunted house murder by Leslie Meier
Newcomers to Tinker's Cove, Ty and Heather Moon have moved into a dilapidated house reputed to be a haven for ghosts. Now strange noises and flickering lights erupt from the house at all hours and neighborly relations are on edge. And when a local boy goes missing near the house, it's up to Lucy Stone to unravel the mystery of the eccentric couple and their increasingly frightful behavior.
Death by haunted house by Lee Hollis
For the past two years, the house next door to Hayley Powell has sat abandoned after the owner died under mysterious circumstances. The Salinger family has recently taken possession of the property, but the realtor behind the deal has vanished—after a very public and angry argument with Damien Salinger. If Bar Harbor's newest neighbors are murderers, Hayley will haunt them until they confess.
Hallowed out by Barbara Ross
With its history of hauntings and ghost sightings, Busman's Harbor is the perfect setting for Halloween festivities. But when a reenactment of a Prohibition-era gangster's murder ends with a literal bang and a dead actor from New Jersey, Julia Snowden must identify a killer before she ends up sleeping with the fishes.
20th century ghosts
by Joe Hill
Imogene is young and beautiful. She kisses like a movie star and knows everything about every film ever made. She's also dead and waiting in the Rosebud Theater for Alec Sheldon one afternoon in 1945. . . .
Francis is unhappy. Francis was human once, but that was then. Now he's an eight-foot-tall locust, and everyone in Calliphora will tremble when they hear him sing. . . .
John Finney is locked in a basement stained with the blood of half a dozen other murdered children. In the cellar with him is an antique telephone, long since disconnected, but which rings at night with calls from the dead. . . .
The past isn't dead. It isn't even past. . . .