Storytimes –
Monday evenings at 5:30 pm
Wednesdays at 10:00 am
Saturdays at 11 am in English and 11:30 in Spanish
Facebook Storytimes in English and Spanish

Closed for Christmas Holiday
Wishing all of you a merry and safe Christmas holiday from the Liberal Memorial Library family to yours. In celebration of the holiday, we will be closed December 24th through 26th.
Teen & Adult DIY Holiday Gifts
Don't know what to get your friends or family this holiday season? Join us on Monday, December 19th from 1 to 3 pm to make something with your own hands that they are sure to enjoy! We will have several different craft gift options to choose from, you are welcome to make one or make them all.
This event is free but supplies will be limited.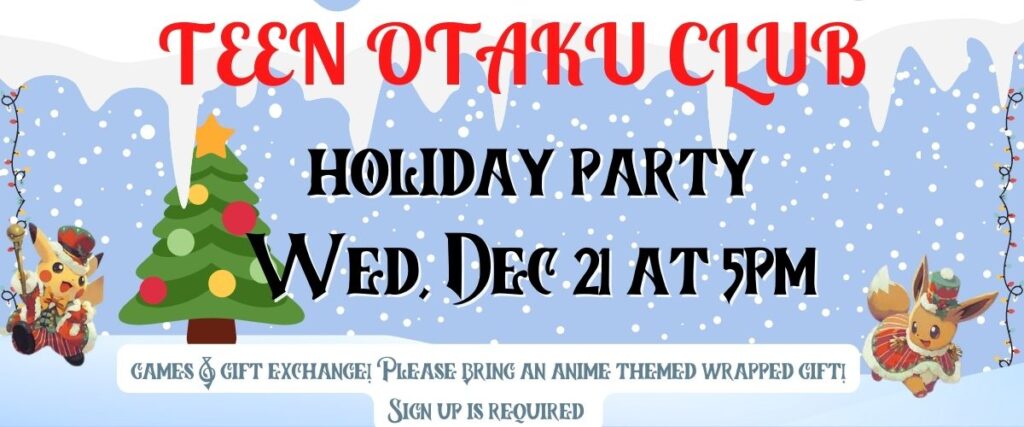 Teen Otaku Club Holiday Party
On Wednesday, December 21st at 5 pm we will celebrate our love of Otaku by having a holiday party!
Join us in games, a craft, snacks, and a gift exchange!
Sign up is required to attend this month due to the planned activities.
Game Day
On Thursday, December 22nd at 5 pm, come to the library and play video games, board games, and card games. This event is open to all ages, bring a friend or family member to try out a new game!
Library and Lunch
On Tuesday, January 10th​ at Noon, our book club will meet to discuss "The Seven Husbands of Evelyn Hugo" by Taylor Jenkins Reid. Bring your lunch and join the discussion.
Christmas Fiction Books
Check out our display of Christmas fiction books to help you get in the holiday spirit.
All I Want for Christmas 
by Maggie Knox  
When Sadie and Max are selected for a duet on the famed reality singing show Starmaker, each thinks they've finally gotten their big Nashville break. Faking a relationship until their final performance in the Starmaker holiday special shouldn't be too hard, except for one small problem—Sadie and Max can't stand each other.
But with their dreams just within reach, they agree to the ruse. Will their fake relationship be exposed before they can win? Or might their phony connection turn real by the Christmas finale?
Santa's Little Yelpers: An Andy Carpenter Mystery 
by David Rosenfelt  
'Tis the season in Paterson, New Jersey: Lawyer Andy Carpenter and his golden retriever, Tara, are surrounded by holiday cheer.
Myers, a newer employee at the Tara Foundation, did time for a crime he swears he didn't commit. When Myers discovers a key witness against him lied on the stand, he goes to Andy to ask for representation in getting the conviction overturned. Myers thinks they can have this wrapped up by Christmas, no problem.
But when the witness is murdered, and Myers is arrested for the crime, things go from bad to worse. Suddenly, it's all elves on deck to make a list and check it twice, so they can prove Myers is innocent.
The Christmas Spirit: A Novel 
by Debbie Macomber 
Peter Armstrong and Hank Colfax are best friends, but their lives couldn't be more different. Peter, the local pastor, is dedicated to his community. As a bartender, Hank serves a much different customer base at his family-owned tavern.
When Peter scoffs that Hank has it easy compared to him, the two decide to switch jobs until Christmas Eve. As the two begin to see each other in a new light—and each discovers a new love to cherish—their lives are forever changed.
In The Christmas Spirit, Debbie Macomber celebrates the true meaning of the holidays and the inclusive community spirit that binds us all.