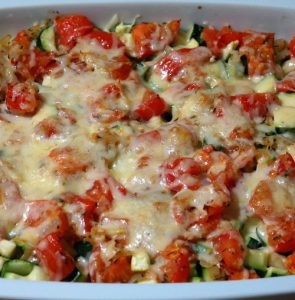 What's happening this week at the Library
Tuesday at 11am Storytime – Stories, songs, crafts, and more! Plus, every child gets a free book to take home at every storytime. Story times are open to children of all ages.
Tuesday at 6:30 pm Recipe Swap – Bring something you've made (along with the recipe) to share and enjoy everyone else's creations! Every month is a different theme! This month's theme is slow cooker recipes.
Thursday at 6 pm Storytime – If you can't make it to the morning storytime on Tuesday, you can come to the evening Thursday one instead.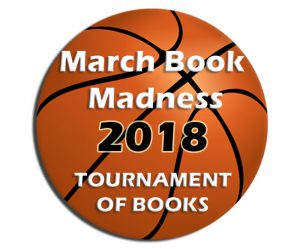 March Book Madness
This week is the official start of our second annual March Book Madness contest. We've taken our sixteen most popular books from each area of the library: adult, teen, and kids, and pitted them against each other in a battle to see which books will become our 2018 Books of the Year.
You decide who will be the winner. Vote each week during March for your favorites, either on our website or in person at the library.
You can also fill out a bracket, online or in person, to predict the winners. If you correctly predict the winner of any of the three tournaments and turn in your bracket before March 9th at 4:30 p.m., you will win a 2018 March Book Madness trophy!
When you vote each week, besides helping determine which books will move forward in the tournament of books, you will also enter yourself into weekly drawings for fun prizes.
So have a little fun and maybe win a prize at the library by participating in this year's March Book Madness.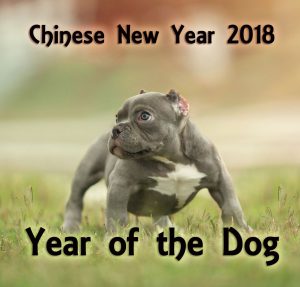 Year of the Dog
In honor of Chinese New Year, which was earlier this month, we've put together a special "Year of the Dog" book display, featuring all kinds of dog related books.
Here are a few: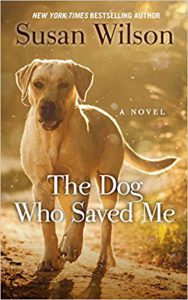 The Dog Who Saved Me
by Susan Wilson
From the book description
Cooper Harrison of the Boston K-9 unit thought he would never go back to his hometown. Then his canine partner, Argos, is killed in the line of duty, and Cooper is mired in grief. Jobless and on the verge of a divorce, he accepts a job as animal control officer in Harmony Farms – back where he started.
Where his father was the town drunk. Where his brother was a delinquent and bully. Where he was "one of those" Harrisons. Cooper does his job with deliberate detachment until he encounters a wounded and gun-shy yellow Lab gone feral.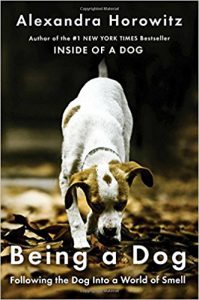 Being a Dog: Following the Dog Into a World of Smell
by Alexandra Horowitz
From the book description
In Being a Dog, Alexandra Horowitz, a leading researcher in dog cognition, continues to unpack the mystery of a dog's nose-view, in order to more fully understand our irrepressibly charming companions. She follows the dog's nose – exploring not only its abilities but the incredible ways it is being put to use.
By observing everything from her own dogs to working detection dogs and human sniffers, Horowitz takes us along on her quest to make sense of scents, combining a personal journey of smelling with a tour through the cutting-edge science behind the olfactory powers of the dog.
Dog on It: A Chet and Bernie Mystery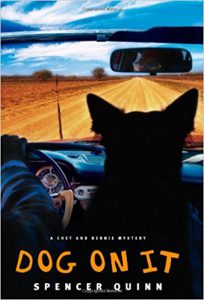 by Spencer Quinn
From the book description
Meet Chet, the wise and lovable canine narrator of Dog on It, who works alongside Bernie, a down-on-his-luck private investigator. Chet might have flunked out of police school ("I'd been the best leaper in K-9 class, which had led to all the trouble in a way I couldn't remember exactly, although blood was involved"), but he's a detective through and through.
Their search for a missing teenaged girl takes them into the desert to biker bars and other exotic locals, with Chet's highly trained nose leading the way. With his doggy ways and his endearingly hardboiled voice, Chet is full of heart and occasionally prone to mischief.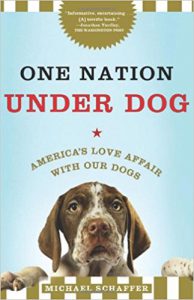 One Nation Under Dog: Adventures in the New World of Prozac-Popping Puppies, Dog-Park Politics, and Organic Pet Food
by Michael Schaffer
From the book description
When Michael Schaffer and his wife drove to a rural animal shelter and adopted Murphy, an emaciated, dreadlocked Saint Bernard, they vowed that they'd never become the kind of people who get facials for their dogs or shell out for expensive hip replacements. But then they started to get weird looks from the in-laws: You hired a trainer? You had our dog implanted with a GPS chip? Murphy is on antidepressants?
It turned out Murphy wasn't alone: yesteryear's pooch has moved from the backyard doghouse to the master bedroom, evolving from man's best friend to bona fide family member. The pet industry has ballooned from $17 billion to an estimated $43 billion in barely a decade. Schaffer provides a surprising, lively, and often hilarious portrait of our country.