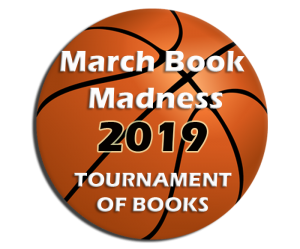 Events This Week
Monday – The Library will be closed on Monday, February 18th for Presidents' Day. We will reopen on Tuesday for our regular hours.
Tuesday at 11 am Storytime – Stories, songs, crafts, and more! Plus, every child gets a free book to take home at every storytime. Story times are open to children of all ages.
Wednesday at 11 am Lapsit Storytime – Special storytime for children ages 0-2. Come listen to stories, sing songs, and develop key literacy skills. Also, every child gets a FREE book to take home!
Thursday at 5:30 pm Storytime – If you can't make it to the morning storytime on Tuesday, you can come to the evening Thursday one instead. For children of all ages.
Saturday at 1:30 pm Winter PJ Party – Kids, wear your favorite pajamas and join us at the library for some stories & games! Be sure to bring your favorite stuffed "friend" or blanket!
More Events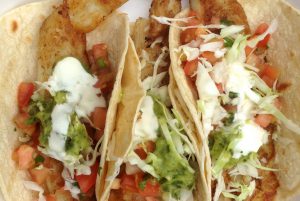 Recipe Swap
On Tuesday, February 26th at 6:30 p.m., join us for Recipe Swap and share your favorite recipe with fellow patrons who share your passion — cooking! Every month is a different theme! This month's theme is "Taco Tuesday".
Oscar Prediction Contest and Movie
Pick up an Oscar prediction ballot at the library. Fill it out and return it by Saturday, Feb. 23rd and you could win a prize if you accurately predict the winners of the four categories on the ballot. Winners will be announced on Tuesday, Feb. 26th.
After the Oscars are over, come watch an Oscar worthy movie with us on Monday, the 25th at 5:30 pm. Free popcorn will be available!
Library and Lunch Book Club
In March, we will discuss "The Hate U Give" by Angie Thomas. We'll meet on Tuesday, March 12th at 12 p.m. Bring your lunch and join the discussion.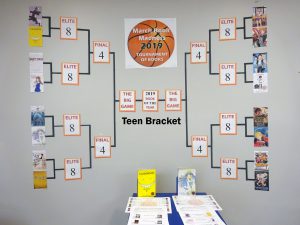 March Book Madness
Next week is the official start of our third annual March Book Madness contest. We've taken our sixteen most popular books from each area of the library: adult, teen, and kids, and pitted them against each other in a battle to see which books will become our 2019 Books of the Year.
You decide who will be the winner. Vote each week during March for your favorites, either on our website (http://lmlibrary.org) or in person at the library.
You can also fill out a bracket, online or in person, to predict the winners. If you correctly predict the winner of any of the three tournaments and turn in your bracket before March 8th at 4:30 p.m., you will win a 2019 March Book Madness trophy!
When you vote each week, besides helping determine which books will move forward in the tournament of books, you will also enter yourself into weekly drawings for fun prizes. The first round ballots to select the Elite Eight are due Friday, March 8th by 4:30 p.m.
So have a little fun and maybe win a prize at the library by participating in this year's March Book Madness.
Celebrating Black History Month
Here are a couple of books from our display of books written by African American authors.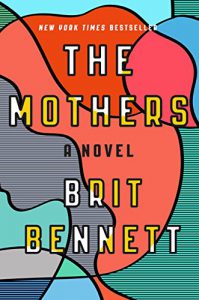 The Mothers: A Novel
by Brit Bennett
From the book description
It is the last season of high school life for Nadia Turner, a rebellious, grief-stricken, seventeen-year-old beauty. Mourning her own mother's recent suicide, she takes up with the local pastor's son. Luke Sheppard is twenty-one, a former football star whose injury has reduced him to waiting tables at a diner. They are young; it's not serious. But the pregnancy that results from this teen romance—and the subsequent cover-up—will have an impact that goes far beyond their youth.
As Nadia hides her secret from everyone, including Aubrey, her God-fearing best friend, the years move quickly. Soon, Nadia, Luke, and Aubrey are full-fledged adults and still living in debt to the choices they made that one seaside summer, caught in a love triangle they must carefully maneuver, and dogged by the constant, nagging question: What if they had chosen differently? The possibilities of the road not taken are a relentless haunt.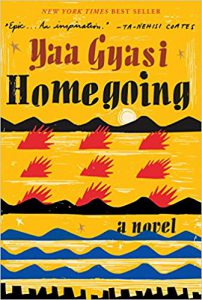 Homegoing: A novel
by Yaa Gyasi
Two half sisters, Effia and Esi are born into different villages in eighteenth-century Ghana. Effia is married off to an Englishman and lives in comfort in the palatial rooms of Cape Coast Castle. Unbeknownst to Effia, her sister, Esi, is imprisoned beneath her in the castle's dungeons, sold with thousands of others into the Gold Coast's booming slave trade, and shipped off to America, where her children and grandchildren will be raised in slavery. One thread of Homegoing follows Effia's descendants through centuries of warfare in Ghana, as the Fante and Asante nations wrestle with the slave trade and British colonization.
The other thread follows Esi and her children into America. From the plantations of the South to the Civil War and the Great Migration, from the coal mines of Pratt City, Alabama, to the jazz clubs and dope houses of twentieth-century Harlem, right up through the present day, Homegoing makes history visceral, and captures, with singular and stunning immediacy, how the memory of captivity came to be inscribed in the soul of a nation.