Whew! We did it! Or more importantly you did it. 2015 Summer Reading is officially in the books.  The library hasn't quite yet put all the numbers together, but it looks like we had another record breaking year in terms of program attendance and the number of finished reading logs turned in.
I want to take a quick minute and say thank you to our staff that put together an awesome childrens and young adults line-up. We left no stone unturned in providing what was a great summer reading gauging by the smiles on the faces of our participants. Library staff did an awesome job of improvising on the spot and doing what needed to be done to make sure things went off as planned. A good example of this is when a performer failed to show up and our Assistant Director Tammy gave an impromptu program on dog training.
This summer reading season also saw the library being a site for the Summer Food Program through the USDA and USD 480. Not only were we able to nourish kids minds but their stomachs as well. For the library it also meant a chance to reach more patrons and to tell people about library programs and services. The program continues through July 24th. An important thing to remember about the Summer Food Program is that the emphasis is on providing a child with a nutritious lunch. It is not dependent on income level or qualifying for any particular program. You come in, get a lunch, and eat up. That's it.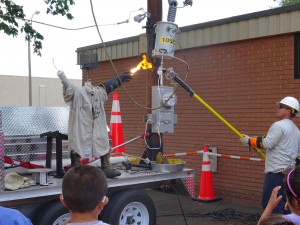 In a month of highlights it is hard to pick out just a few moments to talk about but there are a few that stand out. My personal favorite was the Southern Pioneer Power Van.
Usually when you see someone working on a utility pole you understand how dangerous it is, but aren't really aware of just how dangerous. Watching the people from Southern Pioneer show us electrical arcing on a dummy drove the point home. If the crackling of the high voltage wasn't enough to scare the wits out of you, the hot dogs they fried with that energy was a good lesson. Leave those power cables alone.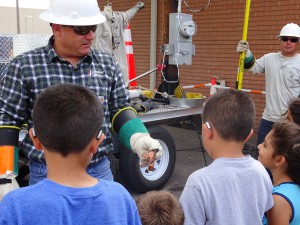 Another favorite moment was when Darth Vader once again visited the library. I mean. C'mon. How cool is it that Darth Vader has been in the library twice this year so far? The young adults were treated to a chance to sit down with a gentleman who portrays Darth Vader for local functions and at conventions around the area. He talked about making his own custom costume and what it takes to immerse oneself in the role. Plus, for those who stuck around they got to make light sabers.
In this moment of reflection, I want to take a moment and thank our Friends of the Library. They provided gift certificates and prizes for our summer reading programs and it was much appreciated. My favorite part was calling people to let them know they had won something. The Friends of the Library do a lot for the library and they make programs like Summer Reading even more exciting.
Last but not least, I want to thank you the library patron and community member. Part of what makes a successfully summer reading program is people taking the time out of a busy summer to attend programs at the library. Just as important is people in the community realizing we have such a program and sending their summer visitors over to participate. We have quite a few kids from out of town whose grandparents brought them down to the library during June.
Once again thanks. We take a bit of a rest in July, but not by much. We will return to our regular storytimes and will also be offering programs and don't forget our Friday Movies at 2pm the rest of the summer.
See you at your library.