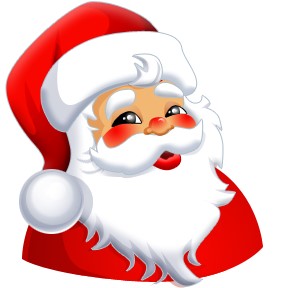 We're gearing up for Christmas here at the library, with all sorts of fun activities. So if your kids (or you) need some relief from Cabin Fever during their long Winter Break, I have the perfect remedies – here's all the fun stuff the library has in store for the rest of this month:
Santa Claus Storytime – Dec. 17 at 11:15 am and 6 pm – Santa himself will read us some Christmas stories, and of course there will be a Christmas craft.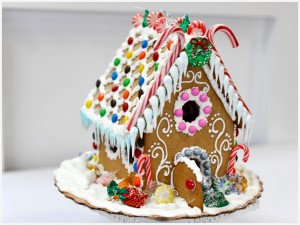 If you signed up for one of our Gingerbread House decorating sessions on the 19th, don't forget to come at 9:30 am or 11:30 am (whichever one you signed up for).  Don't worry, you will receive an email reminder the day before. These sessions are by registration only, and all spaces are now full.
Star Wars Day – Dec. 18 – Just in time for the release of Star Wars: The Force Awakens! All ages are welcome at these events. Star Wars crafts and prizes at 1 pm, movie at 2 pm with Star Wars posters for everyone who attends, Star Wars games and prizes at 4 pm.  Wear or bring your favorite Star Wars gear!
THEME DAYS FOR KIDS' WINTER BREAK (there will be movies, along with crafts, stories, and other fun):
Solstice crafting & celebration – Dec. 21 – Learn about the shortest day of the year. Movie at 2 pm.
Teddy Bear & PJ Day – Dec. 22 – Party at 2 pm. Come to the library in your most comfortable jammies and bring along your favorite stuffed animal.
Christmas crafts – Dec. 23 at 4 pm, make some fun Christmas crafts. Also, there will be a Christmas movie to get you in the holiday spirit at 2 pm.
Disney Day – Dec. 28 – Wear your favorite Disney gear! Disney movies at 2 and 4 pm. Enjoy some Frozen-themed fun!
Music, Drama & Musicals Day – Dec. 29 – Enjoy watching some great musicals, and even sing along if you want to!
Anime and Art Day – Dec. 30 – Enjoy an anime movie at 2 pm, and/or make some art.
Noon Year's Eve – Dec. 31 at noon – Come celebrate the New Year while we're all still awake.
And if you & your fellow adults need some stress relief, try our Stress Management session with Leslie Bissell on Dec. 16 at noon.  Learn some techniques to relieve the stress of the holidays.
Also, don't forget that we're forgiving library fines this week when you donate new, unopened, unused, and non-perishable food, toiletry, clothing, and sundries, all of which will be given to the Stepping Stone Shelter.  See our website at http://lmlibrary.org/fine-forgiveness-2015/ for suggested donation items. Even if you don't have any fines, you can still contribute to helping the homeless here in Liberal by donating.
And if you didn't yet receive a copy of this year's Kansas Reads to Preschoolers book, Is Your Mama a Llama?, we will have free copies available at the front desk.  This classic picture book is a great gift for the preschooler, baby, or toddler in your life.