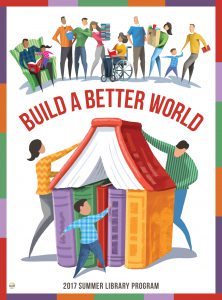 Another Summer Reading is coming to an end. Kids and teens, be sure to turn in your completed reading logs by this Friday, July 28th to earn Summer Reading prizes. Adults, turn in your Summer Reading Bingo card with a bingo by Noon this Friday to be entered into the Grand Prize drawing.
What's happening this week
Tuesday at 11:15 am Birth to 3 yr-olds Storytime – We will have special storytimes for each age group during Summer Reading. Listen to stories, sing songs, and do a craft.
Tuesday at 2 pm 7 to 11 yr-olds Storytime
Tuesday at 6:30 pm Recipe Swap – Bring something you've made (along with the recipe) to share and enjoy everyone else's creations! This month, we're making cookout food.
Thursday at 11:15 am 4 to 6 yr-olds Storytime
Thursday at 4 pm Building Challenge – Kids Summer Reading – Complete a fun challenge using Legos, blocks, and other building materials!
Friday at 1 pm Games and a Movie – Kids Summer Reading – Play fun board and card games at 1:00 p.m. followed by a movie at 2:00 p.m. about small blue creatures.
Saturday at 1 pm End of Summer Reading Party Kids and Teens – Eat some ice cream and celebrate all that you've done during Summer Reading!
Lunches – Lunches are still being served, courtesy of USD 480's Summer Food Service Program, from 11:30 to 12:30 in the Downstairs Activity Area at the Library. This program is open to all children and teens, ages 1-18. Lunches will continue to be served until August 11th. No registration or identification required. For more information, contact Connie Vogts at 620-604-1204.
Superhero Fiction and Nonfiction for Adults
Superheroes aren't just for kids. Here are a few of the books about superheroes that we have for adults.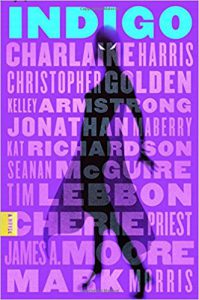 Indigo: A Novel
by Charlaine Harris, Christopher, Jonathan Maberry, Kelley Armstrong, Kat Richardson, Seanan McGuire, Tim Lebbon, Cherie Priest, James A. Moore, and Mark Morris
From the book description
Investigative reporter Nora Hesper spends her nights cloaked in shadows. As Indigo, she's become an urban myth, a brutal vigilante who can forge darkness into weapons and travel across the city by slipping from one patch of shadow to another. Her primary focus, both as Nora and as Indigo, has become a murderous criminal cult called the Children of Phonos. Children are being murdered in New York, and Nora is determined to make it stop, even if that means Indigo must eliminate every member. But in the aftermath of a bloody battle, a dying cultist makes claims that cause Indigo to question her own origin and memories.
In a brilliant collaboration by New York Times and critically acclaimed coauthors Charlaine Harris, Christopher Golden, Kelley Armstrong, Jonathan Maberry, Kat Richardson, Seanan McGuire, Tim Lebbon, Cherie Priest, James Moore, and Mark Morris join forces to bring you a crime-solving novel like you've never read before.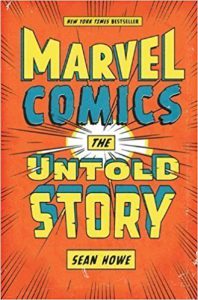 Marvel Comics: The Untold Story
by Sean Howe
From the book description
An Unvarnished, unauthorized, behind-the-scenes account of one of the most dominant pop cultural forces in contemporary America
Operating out of a tiny office on Madison Avenue in the early 1960s, a struggling company called Marvel Comics presented a cast of brightly costumed characters distinguished by smart banter and compellingly human flaws. Spider-Man, the Fantastic Four, Captain America, the Incredible Hulk, the Avengers…quickly won children's hearts and sparked imaginations.
Throughout this decades-long journey to becoming a multibillion-dollar enterprise, Marvel's identity has continually shifted, careening between scrappy underdog and corporate behemoth.
For the first time, Marvel Comics reveals the outsized personalities behind the scenes. Drawing on more than one hundred original interviews with Marvel insiders then and now, Marvel Comics is a story of fertile imaginations, lifelong friendships, action-packed fistfights, reformed criminals, unlikely alliances, and third-act betrayals.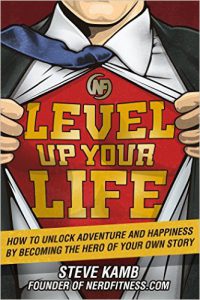 Level Up Your Life: How to Unlock Adventure and Happiness by Becoming the Hero of Your Own Story
by Steve Kamb
From the book description
Jason Bourne. Indiana Jones. Steve Kamb? For the past 5 years, Steve Kamb has transformed himself from wanna-be daydreamer into a real-life superhero. Not only that but he actually turned his life into a gigantic video game, flying stunt planes in New Zealand, gambling in a tuxedo at the Casino de Monte-Carlo, and even finding Nemo on the Great Barrier Reef. To help him accomplish all of these goals, he built a system that allowed him to complete quests, take on boss battles, earn experience points, and literally level up his life. Best of all he did all of this without breaking the bank.
If you're somebody who's always dreamed of adventure and growth but can't seem to leave your hobbit-hole, this book is for you.
In Level Up Your Life, you'll meet more than a dozen of these members of The Rebellion: men and women, young and old, single and married, from all walks of life who have created superhero versions of themselves to live adventurously and happily. Adventure is out there, and the world needs more heroes. Will you heed the call?