Events This Week
Monday all day Scavenger Hunt – We are kicking off Tolkien week with an all day scavenger hunt in the library. Ask the front desk for the scavenger hunt riddle list. Once you complete the entire list you may win a 3D printed Tolkien themed prize!
Tuesday at 11 am Storytime – Stories, songs, crafts, and more! Plus, every child gets a free book to take home at every storytime. Story times are open to children of all ages.
Tuesday at 5 pm Sword/Shield Decorating – On day 2 of Tolkien week, celebrate by decorating your own cardboard shield and/or sword. All supplies will be provided. This event is open to all ages!
Wednesday all day Trivia – On day 3 of Tolkien Week will have an all day "The Hobbit" specific trivia contest. Trivia pages will be available at the circulation desk just come by and ask! Prizes will be awarded for different grade groups!
Wednesday from 4 pm to 7pm Library Fundraiser at McDonalds – The McDonalds on 24 East Pancake is having a fundraiser for the library. They will donate 20% of all sales made on this Wednesday between 4 pm and 7 pm to the library! So if you're eating out on Wednesday, swing by the McDonalds on East Pancake.
Thursday at 2 pm Game Day for Adults – Play Mexican Train Dominoes, Spoons, or the card game "5 Crowns." For adults only.
Thursday at 5 pm Baggins Bingo – On day 4 of Tolkien Week play "Baggins Bingo"! Each of the squares has a familiar face or location in Tolkien's stories. Open to all ages and 3D printed Tolkien themed prizes will be available for the winner!
Thursday at 5:30 pm Storytime – If you can't make it to the morning storytime on Tuesday, you can come to the evening Thursday one instead.
Friday Activity Sheets – On day 5 of Tolkien Week have fun with themed cross words, word searches and coloring pages!
Saturday at Noon Movie – celebrate Bilbo and Frodo's birthday with us with a viewing of the movie along with other fun activities and snacks. We will be finding out our names in Dwarven Runes and pin the ring on Frodo and Bilbo.
More Events
Tuesday, September 25th at 6:30 pm Recipe Swap – Bring something you've made (along with the recipe) to share and enjoy everyone else's creations! Every month is a different theme! This month's theme is "International Recipes".
Tuesday, October 9th at Noon Library and Lunch book discussion – In October we will discuss "Rebecca" by Daphne Du Maurier. Bring your lunch and join the discussion.
Hobbit Day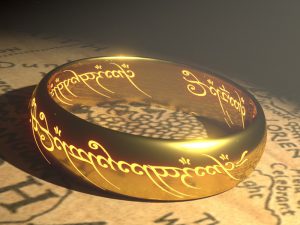 Hobbit Day is observed annually on September 22nd. It is the birthday of the hobbits Bilbo and Frodo Baggins, two fictional characters in J. R. R. Tolkien's popular set of books The Hobbit and The Lord of the Rings. In the books both Bilbo and Frodo were said to be born on September 22, but of different years. Bilbo was born in the year of 2890 and Frodo in the year of 2968 in the Third Age (1290 and 1368 respectively in Shire-Reckoning.)
The American Tolkien Society first proclaimed Hobbit Day and Tolkien Week in 1978, and defines them as this: "Tolkien Week is observed as the calendar week containing September 22, which is always observed as Hobbit Day", but acknowledges that Hobbit Day pre-dates their designation.
You can check out The Hobbit and other Tolkien books at the Library.