Liberal Memorial Library Events this week
President's Day
The library will be closed on Monday, February 15th for President's Day.
Bunco Party – Adults
It's not too late to sign up for our first ever Bunco party. It will be on Thursday, February 18th at noon in the Cooper-Clark meeting room. Bunco is a popular dice game that is often played at parties or with family. Refreshment will be served.
Game Time for Kids
We will also have a Game Time for Kids on Thursday at 4 p.m. Kids will earn prizes and enjoy refreshments.
New Computers
The library is in the process of getting new laptops and power companions. Patrons can use the power companions to charge their own devices via usb, one of the library's laptops, or possibly the patron's own laptop if it is a model similar to one of the library laptops. The new laptops and power companions will be available for checkout for in-library usage for adult and teen patrons (with parental consent).
Valentine's Day – New Romance Novels
We have set up a book display of new romance novels in honor of Valentine's Day. For those of us who enjoy being swept away by a good romance, here are a few of our best and newest.
A lady's guide to ruin
by Kathleen Kimmel
Book Description
Joan Price is a wanted woman. A thief and a fugitive from the mental hospital where she was falsely committed, she's now on the run from her former partners in crime. But luck must be on her side – just when it seems all is doomed, she runs straight into the arms of Martin Hargrove, Earl of Fenbrook, who mistakes her for his distant cousin, Daphne.
Lord Fenbrook has no intention of marrying, and certainly doesn't consider his notoriously scatterbrained cousin a prospect. But her flighty persona seems to hide something far more intriguing – a secret self she trusts with no one. And Martin is determined to earn that trust……
All the stars in the heavens : a novel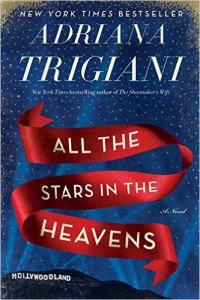 by Adriana Trigiani
Book Description
The movie business is booming in 1935 when twenty-one-year-old Loretta Young meets thirty-four-year old Clark Gable on the set of The Call of the Wild. Though he's already married, Gable falls for the stunning and vivacious young actress, and she returns his feelings.
Far from the glittering lights of Hollywood, Sister Alda Ducci has been forced to leave her convent and begin a new journey that leads her to Loretta. Becoming Miss Young's secretary, the innocent and pious young Alda must navigate the wild terrain of Hollywood with fierce determination and a moral code that derives from her Italian roots. Over the course of decades, Alda and Loretta encounter scandal and adventure, choose love and passion, and forge an enduring bond of loyalty that will be put to the test when they face the greatest obstacle of their lives.
Who do you love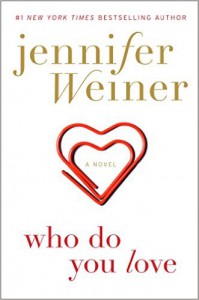 by Jennifer Weiner
Book Description
An unforgettable story about true love, real life, and second changes…
Rachel Blum and Andy Landis are just eight years old when they meet one night in an ER waiting room. Born with a congenital heart defect, Rachel is a veteran of hospitals, and she's intrigued by the boy who shows up alone with a broken arm. He tells her his name. She tells him a story. After Andy's taken back to a doctor and Rachel's sent back to her bed, they think they'll never see each other again.
Yet, over the next three decades, Andy and Rachel will meet again and again – linked by chance, history, and the memory of the first time they met, a night that changed the course of both of their lives.