Since Valentine's Day is coming up, I thought I would tell you about some of our new Valentine's Day themed books for kids!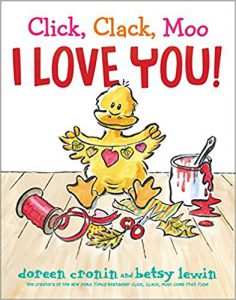 Click, Clack, Moo: I Love You! By Doreen Cronin:
It's Valentine's Day and on the farm that means a Valentine's party. Little Duck is wildly excited. She hangs balloons, streamers, sparkling lights, and hearts everywhere, and hand-makes a valentine for everyone.
On top of a hill, a little fox hears the music from the party and follows Little Duck's many decorations to the barn…but foxes are not at all welcome on farms. The chickens stop dancing. The sheep stop dancing. The pigs stop dancing. The mice hustle off to hide. Will Little Fox ruin the dance? Or, perhaps, she's just what the party needs!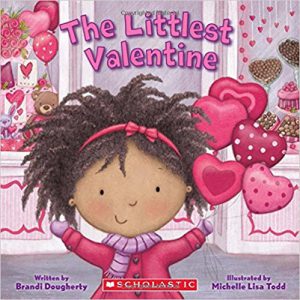 The Littlest Valentine by Brandi Dougherty:
Emma may be the littlest in the Valentine family, but she knows that she has what it takes to help the family business get ready for the holiday. But Emma just can't seem to do things the right way like the bigger members of her family, no matter how hard she tries.
Will Emma find a way to help her family on Valentine's Day, or is the littlest Valentine just too little?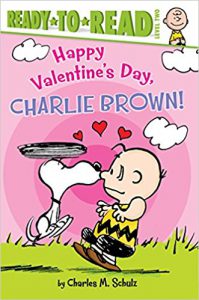 Happy Valentine's Day, Charlie Brown! By Maggie Testa:
It's Valentine's Day and Charlie Brown is trying to find the courage to give the Little Red-Haired Girl a valentine!
With a little encouragement from Lucy, he finally goes for it. Is this the year everything finally works out for Charlie Brown?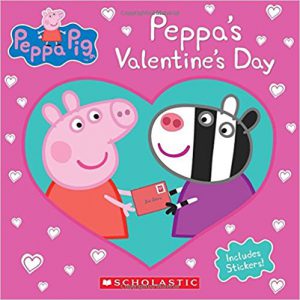 Peppa's Valentine's Day by Courtney Carbone:
Receiving a pretty Valentine's Day card in the mail from her friend Zoe Zebra, Peppa Pig learns about the meaning of the holiday and decides to show all of her friends just how special they are to her, in a heartwarming story.
Plus, let me tell you about the great events the library has coming up in February:
Storytimes are Tuesdays at 11 am and Thursdays at 6 pm! Join us for stories, songs, and a craft. Plus, every child gets a free book at every storytime.
Do your kids need something to do on Tuesday when they're out of school? Bring them to the library for Video Games at 2 pm! Play our Playstation 4, Xbox, or Wii. All ages welcome.
Library & Lunch is this Wednesday at noon. Bring your lunch and join us for a discussion of the book A Knight in Shining Armor by Jude Deveraux.
The Library will be closed on Monday, February 19, in observance of Presidents' Day.
USD 480 is out of school on Friday the 23rd – join us at the library at 1 pm to play board games and card games. Then, we will watch a fun children's movie at 2 pm! Free popcorn and drinks will be served during the movie.
This month's recipe swap will be on Tuesday, the 27th at 6:30 pm. Bring something you've made (along with the recipe) and enjoy everyone else's dishes! This month, we're making Crock Pot dishes.