Visit the library's Valentine's Day book display and treat yourself to a new romance.
Best of My Love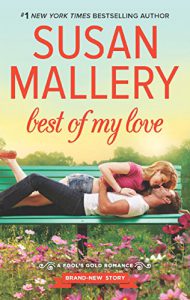 by Susan Mallery
From the book description
To overcome her painful past, baker Shelby Gilmore goes on the hunt for a friend—a male friend—to convince her stubborn psyche that men can be trusted. But where in a town as small as Fool's Gold will the petite blonde find a guy willing to not date her?
Dark, charming Aidan Mitchell puts the "adventure" in Mitchell Adventure Tours…and into the beds of his many willing female tourists. Until he realizes he's inadvertently become that guy—the one-night Casanova—and worse, everyone in town knows it. Maybe Shelby's boy/girl experiment will help him see women as more than just conquests so he can change his ways and win back his self-respect.
As Aidan and Shelby explore the secret lives of men and women, the heat between them fires up the Fool's Gold rumor mill. If no one will believe they're just friends, maybe they should give the gossips something to really talk about!
Blame It on Paris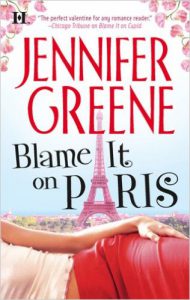 by Jennifer Greene
From the book description
Being mugged at the Louvre is not what she had in mind for her long-awaited trip to Paris. Until Will Maguire comes to her aid, and she finds herself completely distracted by the handsome stranger in the Notre Dame sweatshirt.
Kelly can't seem to resist the world's most romantic city or Will, who is determined to show her all its treasures, from the top of the Eiffel Tower to strolls along the Seine.
But will their love last when they're back in plain old South Bend, Indiana, or will they end up blaming their breathless fling on the city of love?
Just Kiss Me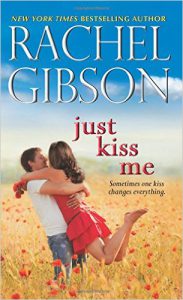 by Rachel Gibson
From the book description
"Hello, Ms. Vivian . . . it's been a long time."
And with those words, Vivian Leigh Rochet nearly melted. It's been years since she last saw Henry Whitley-Shuler. She was a teenager scrubbing houses for a living. He was the gorgeous son of rich parents, not fit for the likes of her.
Vivian had vowed to get out of Charleston, become a big Hollywood star, and stick it to the snooty girls who made her cry. She got what she wanted—and more—but why does her glamorous life seem so trivial?
Henry got out too . . . making it all the way to Wall Street, until a heart attack forced him to trade in his cufflinks for a good set of hand tools.
Making furniture soothes his soul, but escaping the Whitley-Shuler heritage is nearly impossible. And now he's come face-to-face with the one who got away. He's not looking for love. He's not even looking for sex . . . so why is resisting her the hardest thing he's ever done?
What's happening at the library this week
Tuesday at Noon Library and Lunch – Our monthly book club is meeting on Valentine's Day this month. We will be discussing "Redeeming Love" by Francine Rivers, a heartbreaking romance set in the California Gold Rush of the 1800s.
Tuesday at 6 pm Storytime – If you can't make it to the morning storytime on Thursday, you can come to the evening Tuesday one instead.
Wednesday at 5 pm Lego Day – Kids, come use your imagination to build something great!
Thursday at 11:15 am Storytime – Listen to stories, sing songs, and do a craft. Storytimes are open to children of all ages.
The Library will be closed for Presidents' Day on Monday, February 20th.