The Children's Healthy Fun Fair is this Saturday! From 10 am to 1 pm, come to the Agriculture Building at Seward County Fair Grounds for free fun for kids ages birth – 6th grade and their parents! We're going to have a lot of fun stuff at this year's Fair, including:
Free toothbrushes for kids from Lifetime Smiles!
Free stick-on tattoos!
Fishing for letters with USD 308!
Life-size Operation Game from Southwest Medical Center!
Free books from USD 308!
Free Liberal Memorial Library Sippy Cup!
Take your photo & decorate a frame!
Chalk activity to take home!
Easter craft!
Lots of fun games & activities!
Free snack for kids!
Free information for parents about car seats, antibiotics, local services, and more!
Interesting exhibits!
Meet the Bee from KSCB & Sparky the Fire Dog!
To go along with the Healthy Fun Fair, and also for National Nutrition Month in March, here are some good books for kids and their parents about healthy eating. All are available for checkout here at the library: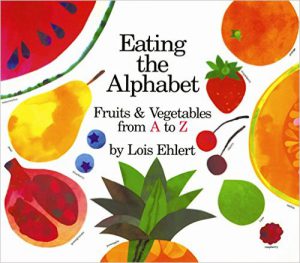 Eating the Alphabet: Fruits and Vegetables from A to Z by Lois Ehlert: This ABC book features bold illustrations and introduces children to such foods as endive and kiwi.
Little Pea by Amy Krouse Rosenthal: Little Pea hates eating candy for dinner, but his parents will not let him have his spinach dessert until he cleans his plate. A hilarious read-aloud, and the perfect intervention for picky eaters.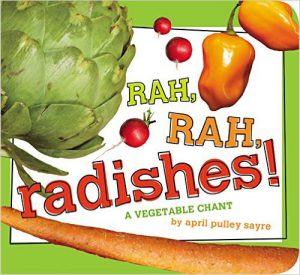 Rah, Rah, Radishes! A Vegetable Chant by April Pulley Sayre: With a raucous rhyming text, Rah, Rah Radishes celebrates fresh vegetables, nature's bright colors, and the joy of healthy eating. The book's interactive spirit encourages kids to join in on the read-aloud fun, and little ones won't be able to resist the book's vibrant photographs–they're a feast for the eyes!
How Did That Get in my Lunchbox? The Story of Food by Christine Butterworth: The best part of a young child's day is often opening a lunchbox and diving in. But how did all that delicious food get there? Who made the bread for the sandwich? What about the cheese inside? Who plucked the fruit? And where did the chocolate in that cookie get its start?
From planting wheat to mixing flour into dough, climbing trees to machine-squeezing fruit, picking cocoa pods to stirring a vat of melted bliss, here is a clear, engaging look at the steps involved in producing some common foods. Healthy tips and a peek at basic food groups complete the menu.
The Cleaner Plate Club by Beth Bader and Ali Benjamin: If you've ever had to grapple with picky eaters who won't touch anything but chicken nuggets and macaroni and cheese, Beth Bader and Ali Benjamin have a solution. Their unique ideas will help you present fresh foods that appeal to kids, eliminate food waste, and help you quit worrying about what your children eat.
Better Food for Kids : Your Essential Guide to Nutrition for All Children from Age 2 to 10 (2nd ed.) by Joanne Saab and Daina Kalnins: With both professional advice and delicious recipes that are thoroughly tested and analyzed, this guide is a comprehensive resource for parents. Includes more than 200 recipes.