Here's what's coming up at the library for the rest of March:
Storytime: Tuesdays at 6 pm & Thursdays at 11:15 am. Join us for stories, songs, and a craft!
Library & Lunch: Tuesday the 14th at noon. Bring your lunch and join us for a discussion of the book Black Coffee by Agatha Christie.
Videogame Day: Tuesday the 14th at 2 pm. Play our Wii, X-Box, or Playstation 4! All ages welcome. Snacks provided.
Bunco: Thursday the 16th at noon. Join our popular dice game! Registration is required, so check out our website at http://lmlibrary.libcal.com/event/3192708 or talk to Shannon. Adults only, snacks provided.
Patrick's Day Party: Friday the 17th at 1 pm. Kids of all ages are invited to celebrate St. Patrick's Day with a craft! Plus, we will watch the movie Dwegons and Leprechauns. Popcorn and lemonade will be served during the movie.
Beginner's 3D Printing Workshop: Monday the 20th at 6:00 pm: Come to our beginner's workshop to learn how to use the library's 3D Printer! We will walk through the process of finding a print-ready file online that you can print as is or alter to fit your needs. Sign up at the front desk or online at http://lmlibrary.libcal.com/event/2900206
Be A Clown Workshop: Saturday the 25th at 1 pm: Kids, learn how to be a clown from Poppa D. Clown! Learn how to juggle, do magic, do rope tricks, paint faces, tie balloon animals, perform skits, use puppets, play games, and tell stories.
Recipe Swap: Tuesday the 28th at 6:30 pm: Bring an Irish dish or a green food along with the recipe and enjoy everyone else's creations!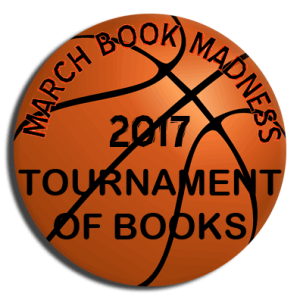 March Madness, also known as the NCAA basketball tournament, will be starting this week, so I thought I would tell you about some good children's books about basketball!
The Crossover by Kwame Alexander: Winner of the 2015 Newberry Medal. Josh Bell and his twin brother Jordan are awesome on the court. But Josh has more than basketball in his blood, he's got mad beats, too, that tell his family's story in verse, in this fast and furious middle grade novel of family and brotherhood. Josh and Jordan must come to grips with growing up on and off the court to realize breaking the rules comes at a terrible price, as their story's heart-stopping climax proves a game-changer for the entire family.
Hoop Genius: How A Desperate Teacher And A Rowdy Gym Class Invented Basketball by John Coy: Taking over a rowdy gym class right before winter vacation is not something James Naismith wants to do at all. The last two teachers of this class quit in frustration. The students–a bunch of energetic young men–are bored with all the regular games and activities. Naismith needs something new, exciting, and fast to keep the class happy–or someone's going to get hurt. Saving this class is going to take a genius. Discover the true story of how Naismith invented basketball in 1891 at a school in Springfield, Massachusetts.
The Basket Ball by Esme Raji Cordell: Lulu prefers playing basketball to playing with dolls. So when the boys won't let her join their school-yard team, she decides to host a Basket Ball—where ball gowns are traded in for sequined basketball jerseys and high-top heels! Girls travel from all over the world to attend the ball, shooting hoops, showing off their skills, and forming a league of their own.
Bestselling and award-winning author Codell has crafted an action-packed, slam-dunk picture book that will appeal to girlie girls and sporty girls alike.