The National Aeronautics and Space Adminstration (NASA) was established 60 years ago today by President Eisenhower. Looking forward to next summer, the Summer Reading Program will be space-related to celebrate the fiftieth anniversary of the moon landing! So, I thought I would share some good kids' books about space from our collection.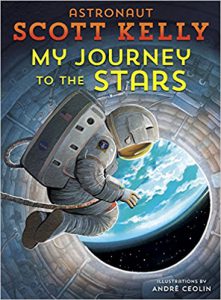 My Journey to the Stars
by Scott Kelly
Scott Kelly wasn't sure what he wanted to be when he grew up. He struggled in school and often got in trouble with his twin brother, Mark. Then one day Scott discovered a book about test pilots and astronauts that set him on a new path. His new focus led him to fly higher and higher, becoming first a pilot and then an astronaut, along with his brother—the first twin astronauts in history.
But his greatest accomplishment of all was commanding the International Space Station and spending nearly a year in space, which set the record for the longest spaceflight by an American.
This story of an ordinary boy who grew up to do extraordinary things is perfect for children, aspiring astronauts, and anyone who has ever tried to defy the odds.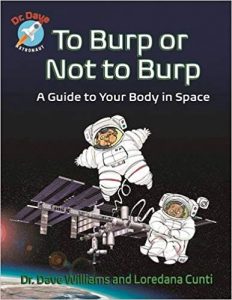 To Burp Or Not To Burp: A Guide To Your Body In Space
by Dave Williams
Of all the questions astronauts are asked by kids, the most frequent one is, "How do you go to the toilet in space?" This book not only answers that question, but many others about the effect of zero gravity on the human body: How do you brush your hair in space? What happens when you sweat? What does food taste like?
The best thing is that the answers are provided by Dr. Dave Williams, a NASA astronaut who speaks from first-hand experience. Written for kids ages 7 to 10, this book uses age-appropriate language to explain the different phenomena that astronauts encounter during a mission. The bright, colorful pages, short blocks of text accompanied by photos and humorous illustrations make this a very attractive choice for young readers.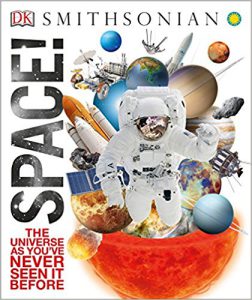 Space!
Senior Editor, Ben Morgan
Truly encyclopedic in scope and fully up-to-date covering the stars and planets, space exploration, and the night sky, Space! is packed with amazing facts and NASA images revealing the wonders of the cosmos — from black holes to the big bang to the planets. Using computer-generated 3D models to explore and open up the most amazing objects in the universe, showing each object in incredible detail, Space! is bursting with facts, infographics, and data boxes. Every topic is covered in depth and detail while remaining easy to understand at a glance.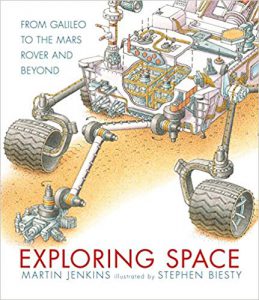 Exploring Space: From Galileo to the Mars Rover and Beyond
by Martin Jenkins
Told in richly detailed cutaway illustrations by Stephen Biesty and friendly, engaging writing by Martin Jenkins, here is the enthralling story of how we made the great leap into space and what we've discovered there. Find out what life is like on the International Space Station, what the chances are that we will ever settle on Mars, where in the solar system we might find alien life, and why visiting other stars will almost certainly remain a dream. Budding astronomers, junior astronauts, and anyone who has ever gazed up at the stars in fascination will pore over this beautifully intricate yet accessible glimpse of the infinite wonders of space.