Events
Halloween Bunco Party – Thursday, October 28th at 2 pm



Wear your costumes and join us for the popular dice game, Bunco! Let the dice roll, meet friends, and win some fun prizes.
Registration is required, so register online or in person. Adults only. Snacks will be provided.

Family Halloween Party and Costume Contest – Friday, October 29th at 4:30 pm.



Everyone's invited to our Halloween party and costume contest. There will be games, goodies and awesome prizes for the winners of the costume contest. The results of our pumpkin decorating contest will also be announced during the party.

Kiwanis will end their Pet & Spook Parade at the library. Walk in the parade and stop to join us in fun activities and a costume contest!
Teen Nacho Day Party – Monday, October 18th at 4:30 pm

Did you know October 21st is International Day of the Nacho? Join us in celebrating the birth of delicious nachos! Grab a plate and watch a Nacho named movie

Movie Time – Tuesday, October 19th at 6 pm

Come to the library and enjoy a movie and free popcorn! Feel free to bring your own drink, and a blanket/pillow to be comfy! This Disney movie stars Eddie Murphy as a realtor who, along with his family, becomes trapped in an old Mansion by ghosts!
Teen Otaku Club – Wednesday, October 20th at 5 pm

Do you love anime and manga and are in middle or high school? Then come to our Teen Otaku Club meeting. This month we will watch and discuss the anime Toilet-Bound Hanako-Kun!. We will also make a fun cosplay craft. Sign up to get a copy of the manga to read in advance and save your spot for the meeting. There will be a door prize and there will be a free snack for each person that signs up!

Movie Time – Tuesday, October 26th at 6 pm

Enjoy an interactive showing of a Halloween Disney movie. Max, a teenage boy, moves to Salem where he accidentally releases the Sanderson sisters, evil witches who lived 300 years ago. Max and his friends must stop them from wreaking havoc on the town.

Interactive showings are a fun way of watching a movie where everyone gets a script and a bag of props and you follow along to shout and snack along with the movie.
Halloween Book Display
Whether you're in the mood for a scary book that will keep you up at night, or you prefer a Halloween themed cozy mystery, our Halloween book display has it all.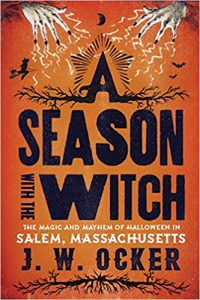 A season with the witch : the magic and mayhem of Halloween in Salem, Massachusetts
by J.W. Ocker.
From the book description
Edgar Award-winning travel writer explores America's capital of creepy – Salem, Massachusetts
A single event in its 400 years of history―the Salem Witch Trials of 1692―forever changed the city's character and reputation in America. Salem thrives as a haven of the bizarre and a modern outpost for the weird. But Salem is a seasonal town―and its season happens to be Halloween. Every October, this small city of 40,000 swells to close to half a million as witches, goblins, ghouls, and ghosts (and their admirers) descend on Essex Street.
Experience the thrills of Halloween through the eyes of a curious and adventurous outsider in the city that has defined this day for generations.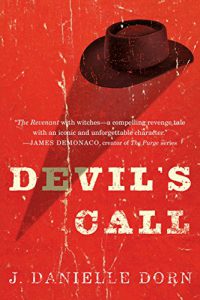 Devil's call
by J. Danielle Dorn
On a dark night in the summer of 1859, three men enter the home of Dr. Matthew Callahan and shoot him dead in front of his pregnant wife. Unbeknownst to them, Li Lian, his wife, hails from a long line of women gifted in ways that scare most folks—the witches of the MacPherson clan—and her need for vengeance is as vast and unforgiving as the Great Plains themselves.
Devil's Call traces Li Lian's quest, from the Nebraska Territory, to Louisiana, to the frozen Badlands, to bring to justice the monster responsible for shooting her husband in the back. This long-rifled witch will stop at nothing​—​and risk everything​—​in her showdown with evil.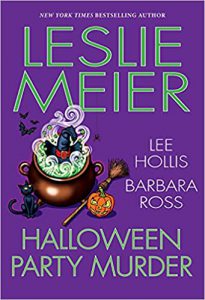 Halloween Party Murder
by Leslie Meier, Lee Hollis, Barbara Ross
Halloween Party Murder by Leslie Meier – Tinker's Cove newest residents Ty and Heather Moon turn their Victorian home into a haunted house to raise funds for charity. But the Halloween fun turns to horrific fright when Heather dies and Ty finds himself accused of murder. Digging deep into the story, journalist Lucy Stone uncovers some sinister secrets in the Moons' past linked to a conspiracy in her hometown…
Death of a Halloween Party Monster by Lee Hollis – Everyone attending Island Times Food and Cocktail columnist Hayley Powell's Halloween bash is dressed as their favorite movie monster. But when partygoers stumble upon Boris Candy's bludgeoned costumed corpse, it falls to Hayley to discover who among her guests wanted to stop the man from clowning around permanently…
Scared Off by Barbara Ross – Three teenage girls having a sleepover on Halloween night get spooked when high schoolers crash the house for a party. But no one expected to find a crasher like Mrs. Zelisko, the elderly third floor tenant, dead in the backyard–dressed in a sheet like a ghost. With her niece traumatized, Julia Snowden must uncover who among the uninvited guests was responsible for devising such a murderous trick…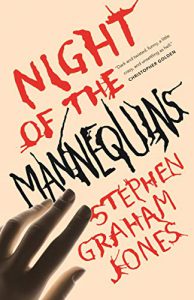 Night of the mannequins
by Stephen Graham Jones
We thought we'd play a fun prank on her, and now most of us are dead.
One last laugh for the summer as it winds down. One last prank just to scare a friend. Bringing a mannequin into a theater is just some harmless fun, right? Until it wakes up. Until it starts killing.
Luckily, Sawyer has a plan. He'll be a hero. He'll save everyone to the best of his ability. He'll do whatever he needs to so he can save the day. That's the thing about heroes—sometimes you have to become a monster first.