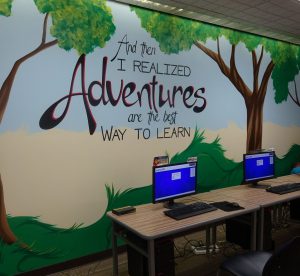 What's happening this week
Tuesday at 11:15 am Birth to 3 yr-olds Storytime – We will have special storytimes for each age group during Summer Reading. Listen to stories, sing songs, and do a craft.
Tuesday at 2 pm 7 to 11 yr-olds Storytime
Tuesday at 6:30 pm Recipe Swap – Join us for Recipe Swap and share your favorite recipe with fellow patrons who share your passion — cooking! Every month is a different theme! This month's theme is "Picnic Foods".
Thursday at 11:15 am 4 to 6 yr-olds Storytime
Thursday at Noon and again at 6 pm Bird Watching – Adult Summer Reading – Learn the ins and outs of effective bird watching in Southwest Kansas. We will meet at Blue Bonnet Park at the gazebo.
Thursday at 4 pm Building Challenge – Kids Summer Reading – Complete a fun challenge using Legos, blocks, and other building materials!
Friday at 1 pm Dan Dan the Magic Man – Summer Reading – If We Can Dream It, We Can Build It." Dan's magic show will guide you on a journey full of architecture and construction!
Lunches – This summer lunches will be served from 11:30 to 12:30 in the Downstairs Activity Area at the Library courtesy of USD 480's Summer Food Service Program. This program is open to all children and teens, ages 1-18. No registration or identification required. For more information, contact Connie Vogts at 620-604-1204.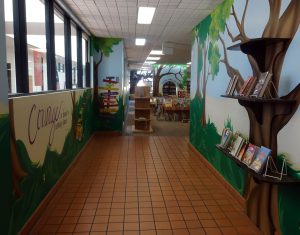 New Children's Area Complete
The renovation of the children's area of the library is finished and it looks great. There are beautiful trees and rolling grassy mounds along the walls. Sarah Foreman came up with the forest themed concept and Mindy Allen painted the artwork on the walls. Cowboy's Custom Cabinetry made the big tree in the corner storytime area and the tree bookshelf near the entrance of the children's area.