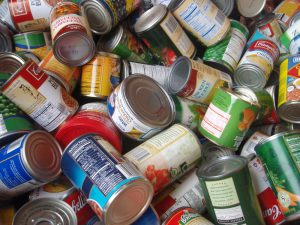 Food for Fines
For this week only, November 27th through December 2nd, you can donate any nonperishable food items or new toiletries (toothpaste, soap, toilet paper, etc.) to Liberal Memorial Library and we will waive your overdue fines! All donated items will be given to local charities.
This works for overdue fines only, fines for lost or damaged items will not be waived.
Database spotlight – Consumer Reports
Did you know that, as a Kansas resident, you could use the online databases from the Kansas State Library to access full text magazines and journals (such as Consumer Reports) for free?
What if, like me, your oven dies just weeks before Thanksgiving? Or suppose you want to find a new dishwasher in time for the big holiday get together aftermath but don't know which to buy? You could:
Go to the Kansas State Library's website https://kslib.info/221/Online-Databases.
Click on the link to Explora Multi-Search under General Research.
Click on Advanced Search.
Type Dishwashers (or whatever else you're looking for) on the first line,
And type Consumer Reports on the second line.
Choose Publication Name under the drop-down beside the second line.
Then click Search.

The first result in the list is "Dishwashers" from the Consumer Reports Buying Guide. 2017. If you click on the underlined title, you'll go straight to the full text article.
After you bring up the article, you also have the option of looking at other articles in the same issue or looking at other issues of Consumer Reports.
Other Databases
Besides Explora Mulit-Search, the Kansas State Library offers access to many other great databases. You could use the Auto Repair Reference Center to find repair information for your car.
LearningExpress offers tutorials and practice tests for people at different stages in life, from elementary school through college prep. The Career Center and Job & Career Accelerator can help you study for and find a new job. Use the Computer Skills Center to learn new computer skills. And the High School Equivalency Center can help you get your GED.
Mango Languages can help you learn a new language. Universal Class offers over 500 online non-credit Continuing Education Courses. Use Heritage Quest and Genealogy Connect to learn more about your ancestors.
These are only a few of the great resources that the Kansas State Library offers free to all Kansas residents.
Christmas Fiction
Now that Thanksgiving is over, we're all busier than ever, stressed out over getting ready for the holidays. If you need a little help getting into the holiday spirit, these books may help.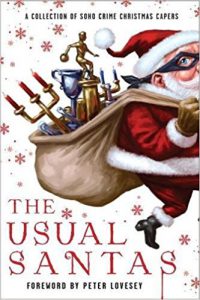 The Usual Santas : a collection of Soho Crime Christmas capers
From the Book Description
Eighteen delightful holiday stories by a colorful lineup of favorite Soho Crime authors. This captivating collection contains laughs aplenty, the most hardboiled of holiday noir, and heartwarming reminders of the spirit of the season.
Nine mall Santas must find the imposter among them. An elderly lady seeks peace from her murderously loud neighbors at Christmastime. A young woman receives a mysterious invitation to Christmas dinner with a stranger…These and other adventures in this delectable volume will whisk readers away to Christmases around the globe, from a Korean War POW camp to a Copenhagen refugee squat, from a palatial hotel in 1920s Bombay to a crumbling mansion in Havana.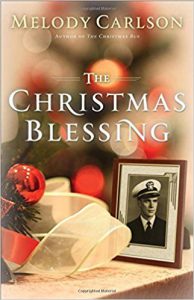 The Christmas blessing
by Melody Carlson.
From the Book Description
She's Determined to give her baby a better life. Could a Christmas miracle make it possible?
When she receives the news in late 1944 that her baby's father was shot down in the South Pacific, Amelia Richards loses hope. Jobless and broke, she has nowhere to turn for help but her infant's paternal grandparents. The only problem is, they don't know that she–or their grandson–exists.
When Amelia discovers that the family is wealthy and influential, dare she disclose the truth of her relationship with their son? Or could the celebration of the arrival of another unexpected baby nearly two thousand years ago be the answer to her dilemma?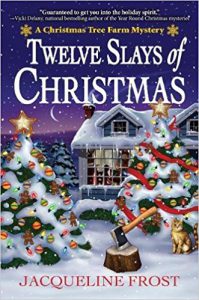 Twelve slays of Christmas
by Jacqueline Frost.
From the Book Description
When Holly White's fiancé cancels their Christmas Eve wedding with less than two weeks to go, Holly heads home with a broken heart. Lucky for her, home in historic Mistletoe, Maine is magical during Christmastime―exactly what the doctor prescribed. Except her plan to drown her troubles in peppermints and snickerdoodles is upended when local grouch and president of the Mistletoe Historical Society Margaret Fenwick is bludgeoned and left in the sleigh display at Reindeer Games, Holly's family tree farm.
When the murder weapon is revealed as one of the wooden stakes used to identify trees on the farm, Sheriff Evan Grey turns to Holly's father, Bud, and the Reindeer Games staff. And it doesn't help that Bud and the reindeer keeper were each seen arguing with Margaret just before her death. But Holly knows her father, and is determined to exonerate him. The jingle bells are ringing, the clock is ticking, and if Holly doesn't watch out, she'll end up on Santa's naughty list.