Storytimes –
Monday evenings at 5:30 pm
Wednesdays at 10:00 am
Saturdays at 11 am in English and 11:30 in Spanish
Facebook Storytimes in English and Spanish
Books, Coffee & Donuts
On Wednesday, May 3rd starting at 9 am, come to the library to chat with our staff over coffee and donuts about new releases and new events happening that month.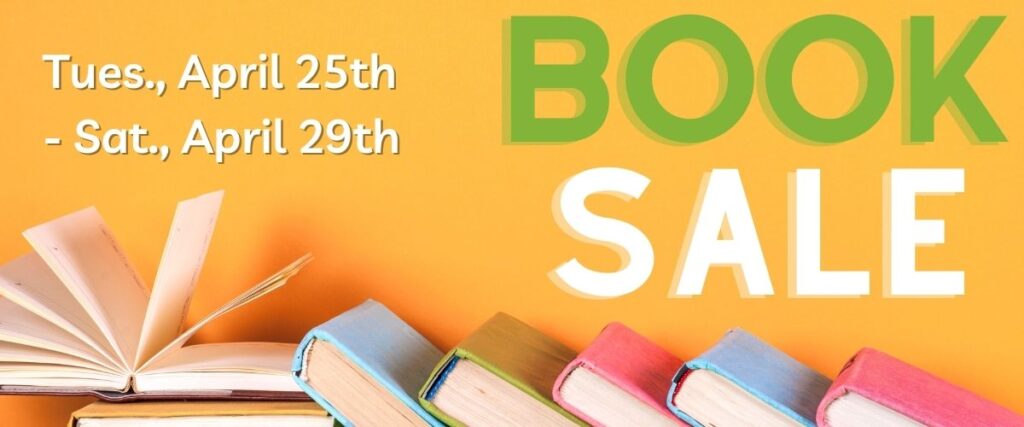 Spring Book Sale and Reception
Support the library and pick up some good deals at our book sale Tuesday, April 25th – Saturday, April 29th during regular library hours.
Tuesday through Thursday – paperbacks will be $0.50 each and all other items will be $1 each.
Friday and Saturday – $1 for every bag full of books and $2 for every box full of books.
Funds from the Book Sale go to the Friends of the Library to help support library programs including Baby's Bookshelf, Budding Bookworms, Summer Reading Program, etc.
Reception
On Monday evening, April 24th from 6 pm – 7:30 pm, there will be an exclusive first pick Book Sale reception for current and new Friends of the Library members only.
Sign up to become a Friend of the Library today. You can renew your membership by paying online with PayPal or in person at the library.
Teen Volunteer Work Day
Teens, there's still time to get your volunteer hours in. During the month of April, the library will have Teen Volunteer Work Days every Monday starting at 4:30 pm. Volunteer for different creative tasks that will help you achieve your needed volunteer hours.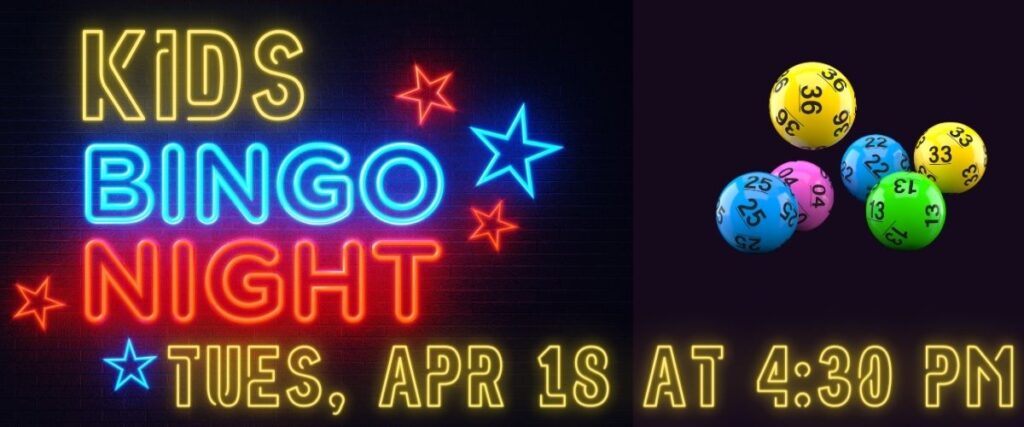 Kids Bingo
Kids, on Tuesday, April 18th at 4:30 pm, join us for a fun game of Bingo! Snacks and fun prizes will be available!
Teen Otaku Club
Do you love anime and manga and are in middle or high school? Then come to our Teen Otaku Club meeting.
On Wednesday, April 19th at 5 pm we will watch & discuss the anime "Sk8 the Infinity"!
Sign up in advance to get a free sticker at the meeting! Join us for your chance at an anime door prize, snacks, a craft/activity and fun anime/manga discussion.
Game Day
On April 20th, starting at 4:30 pm we'll have a special "battle the staff" game day. Test your skills against some of the library staff.
This event is open to all ages, bring a friend or family member to try out a new game!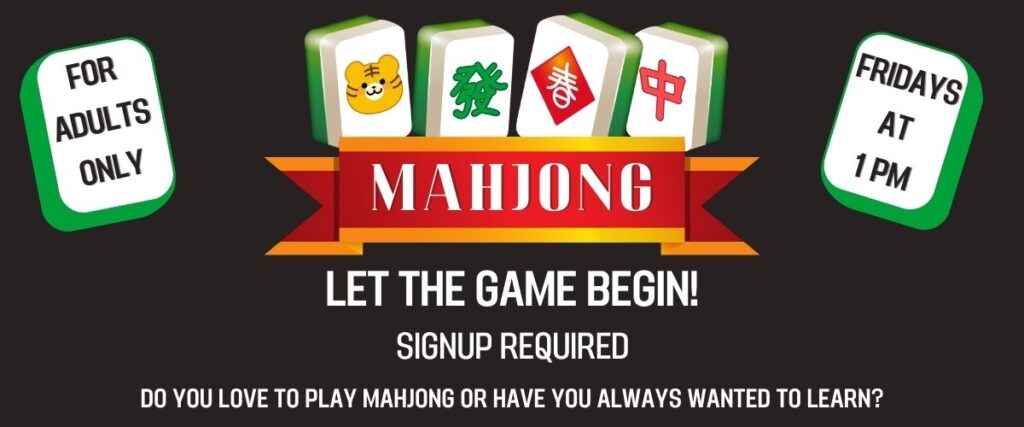 Mahjong
Do you love to play Mahjong? Are you interested in learning a new game to play with family and friends? Every Friday at 1 pm, we will get together for a fun game of Mahjong here at the library. Learn the rules of this traditional Chinese game and play some Mahjong.  No experience necessary. For adults only. Signup is required.  
Library and Lunch
On Tuesday, May 9th​ at Noon, our book club will meet to discuss " The Last Flight" by Julie Clark. Bring your lunch and join the discussion.
Spring Flowers Book Display
Here are a few books from our Spring Flowers book display.
Death and Daisies: A Magic Garden Mystery
by Amanda Flower
Florist Fiona Knox left behind her gloomy life for a magical garden in Scotland, but a murder on her shop's opening day spells doom.
The parish minister, Quaid MacCullen, makes it clear that he would be happy to send Fiona back to Tennessee. Then the village's police chief finds a dead body on the beach, thought to be that of the parish minister. Which makes Fiona a suspect.
The last thing Fiona wanted to do was play detective again. But now, the rosy future she'd envisioned is going to seed, and if she and Chief Inspector Neil Craig can't clear her name, her idyllic life will wilt away in Death and Daisies, national bestselling author Amanda Flower's second enchanting Magic Garden mystery.
The Late Bloomers' Club
by Louise Miller
Nora, the owner of the Miss Guthrie Diner, is perfectly happy serving up apple cider donuts, coffee, and eggs-any-way-you-like-em to her regulars, and she takes great pleasure in knowing exactly what's "the usual." But her life is soon shaken when she discovers she and her free-spirited, younger sister Kit stand to inherit the home and land of the town's beloved cake lady, Peggy Johnson.
Kit, an aspiring–and broke–filmmaker thinks her problems are solved when she and Nora find out Peggy was in the process of selling the land to a big-box developer before her death. The people of Guthrie are divided–some want the opportunities the development will bring, while others are staunchly against any change–and they aren't afraid to leave their opinions with their tips.
When a disaster strikes the diner, the community of Guthrie bands together to help her, and Nora discovers that doing the right thing doesn't always mean giving up your dreams.
The Dandelion Field (A Banister Falls Novel)
by Kathryn Springer
After Raine's dad walked out, Ginevieve Lightly never lived in one place too long, a rambling lifestyle that defined her daughter's youth. When their car dies in Banister Falls, Gin promises Raine they can stay until she finishes her senior year of high school. Gin will do anything to make sure her daughter has a bright future . . . a future that's compromised when Raine reveals she's pregnant.
Dan Moretti has only ever called Banister Falls home. After losing his best friend in a tragic accident, Dan devoted himself to responding to fires, rescuing the helpless, and guiding Cody Bennett, his best friend's son, through life. With Cody being the epitome of the good kid, it was an easy job. Until he says four little words: "The baby is mine."
As Gin and Dan do the best they can to guide the two teenagers through their early entry into adulthood, they discover together that romance can bloom in the rockiest of situations. And God can turn the pieces of a broken past into a beautiful new beginning.