Library Pick-up Service
The Library is currently limited to curbside pickup only. Although the building is closed to patrons, we will bring your library checkouts to you in the library parking lot. Visit our website for more detailed instructions https://lmlibrary.org/library-pick-up-service.
How it works
Log in to catalog.lmlibrary.org to find items you want to checkout.
Once you are logged in, you can search for and place holds on items you want. Call 620-626-0180 or email circdesk@lmlibrary.org if you have any questions and a staff member will be happy to help.
Schedule your appointment
Once you have placed your holds, a staff member will pull the items that you placed on hold and get them ready for pick up. They will then call you and set up a convenient time for you to pick them up.
When you pick up your items – stay in your car, park in the parking lot near the front doors, and call the library to let us know that you've arrived. A staff member will bring your items to you in a plastic bag.
Returning Library Items
We ask that all returning items be put in the book drop. All returning items will be put into quarantine for a time before they are made available for checkout again.
Holiday Reading
Here are a few new Christmas themed books to get you in the holiday spirit. See more Christmas books featured in our catalog at catalog.lmlibrary.org.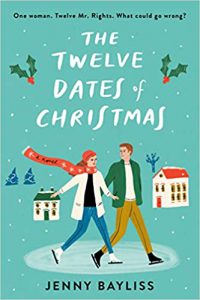 The twelve dates of Christmas
by Jenny Bayliss
From the book description
When it comes to relationships, thirty-four-year-old Kate Turner is ready to say "Bah, humbug." The sleepy town of Blexford, England, isn't exactly brimming with prospects, and anyway, Kate's found fulfillment in her career as a designer, and in her delicious side job baking for her old friend Matt's neighborhood café. But then her best friend signs her up for a dating agency that promises to help singles find love before the holidays. Twenty-three days until Christmas. Twelve dates with twelve different men. The odds must finally be in her favor . . . right?
Yet with each new date more disastrous than the one before–and the whole town keeping tabs on her misadventures–Kate must remind herself that sometimes love, like mistletoe, shows up where it's least expected. And maybe, just maybe, it's been right under her nose all along. . . .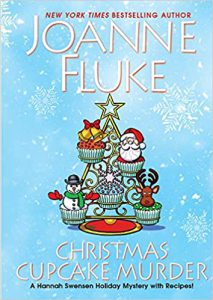 Christmas cupcake murder
by Joanne Fluke
Featuring over a dozen cookie and dessert recipes from The Cookie Jar—Hannah Swensen's famous bakery, this festive new Christmas mystery from the Queen of Culinary Cozies is just the holiday treat you need this season!
While Hannah speeds through a lengthy holiday checklist, drama in town grows like Santa's waistline on Christmas Eve. Her sister Andrea wants to stave off the blues by helping out at The Cookie Jar, Michelle's love life is becoming complicated, Lisa needs Hannah's advice, and Delores has a Christmas secret she's not willing to share. But nothing dampens the holiday mood more than the chilling mystery surrounding the man found near death in an abandoned storefront two doors down from Hannah's bakery . . .
The befuddled John Doe can't recall a thing about himself—except for his unusual knowledge of restoring antique furniture. With a smattering of clues and barely enough time to frost Christmas cookies, Hannah must solve a deadly puzzle that could leave her dashing through the snow for her life!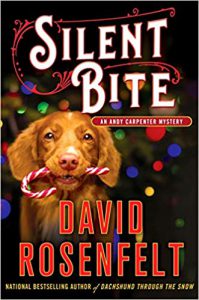 Silent bite
by David Rosenfelt
From the book description
Andy Carpenter and his golden retriever, Tara, are finding that all is not calm or bright in Silent Bite, the latest Christmas mystery in this heartwarming series from bestselling author David Rosenfelt.
Lawyer Andy Carpenter can finally take a breath; he's back on dry land after a family Caribbean cruise forced on him by his wife, Laurie, to get into the Christmas spirit. Of course the family's first stop is to the Tara Foundation, the dog rescue organization that has always been Andy's true passion.
But when Andy arrives, his partner, Willie Miller, needs his help. Willie's old cellmate, Tony Birch, has been arrested for murder. Andy doesn't necessarily believe in Tony, but Willie does. And Andy believes in Willie, which is why Andy decides to take the case.
Once again David Rosenfelt puts readers in the Christmas spirit in a tale that is equal parts mystery and holiday cheer.
Closed for Christmas Holiday
Wishing all of you a merry and safe Christmas holiday from the Liberal Memorial Library family to yours. In celebration of the holiday, we will be closed on December 24th and 25th.
Online Library and Lunch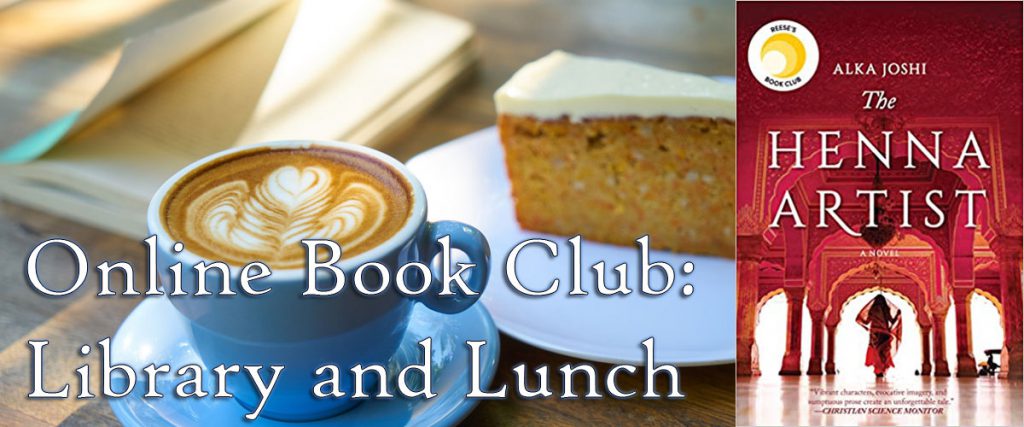 On Tuesday, January 12th at Noon, our book club will meet online to discuss "The Henna Artist" by Alka Joshi.
Programs Coming Soon
Teen Virtual Club – Teens are invited to join us on Zoom every Wednesday at 4 pm to have discussions and play games. Visit our website at lmlibrary.org to sign up and gain access to our zoom room.
Winter Reading – We will have a Winter Reading Challenge similar to our Summer Reading program earlier this year. It will be held entirely online using the Beanstack website and mobile app – Google Play or Apple App Store. Watch our website for more information about this upcoming program.