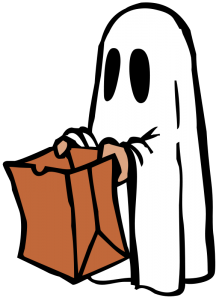 What's happening this week at the Library
Tuesday at 10 am Storytime – Listen to stories, sing songs, and do a craft. Storytimes are open to children of all ages.
Thursday at 6 pm Storytime – If you can't make it to the morning storytime on Tuesday, you can come to the evening Thursday one instead.
Thursday at Noon Bunco – Join us for Bunco, a popular dice game. Seating is limited. Call 626-0180 or go to our website lmlibrary.org to signup.
Friday at 1 pm Games and a Movie – Play fun board and card games at 1:00 p.m. followed by a fun Halloween movie at 2:00 p.m.
Saturday at 2 pm Halloween Party – Make slime, play games, listen to spooky stories, and get candy! Fun for all ages.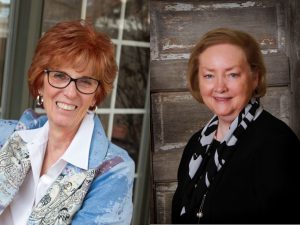 Lunch with the Authors
Join us for lunch with NY Times and USA Today best-selling authors Jodi Thomas and Linda Broday on Wednesday, November 8th at Noon. Attendance is limited, so sign up on our website, by phone 626-0180, or at the library.
Linda Broday is a bestselling author of historical western romance. She lives in the Texas, where she grew up watching TV westerns and wishing that the cowboy got to marry the pretty woman he fell in love with, instead of riding away into the sunset all by his lonesome.
Her newest book, an anthology "Christmas in a Cowboy's Arms" was released in early October. Another book "To Marry a Texas Outlaw (Men of Legend)" will be released in early November.
Jodi Thomas is a bestselling author of over 40 novels and 13 short story collections. Her stories travel through the past and present days of Texas and draw readers from around the world. Jodi Thomas enjoys interacting with students at West Texas A&M University in Canyon, Texas, where she currently serves as Writer in Residence.
When not working on a novel or inspiring students to pursue a writing career, Thomas enjoys traveling with her husband, renovating a historic home, and "checking up" on their grown sons and four grandchildren.
Western Romances
In honor of our visiting authors, we've put together a display of western romances, including books written by Jodi Thomas and Linda Broday as well as other authors. Here are two.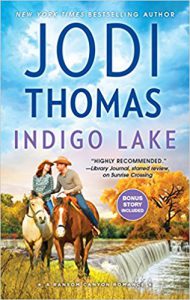 Indigo Lake: A Small-Town Texas Cowboy Romance (Ransom Canyon)
by Jodi Thomas
From the Book Description
Blade Hamilton is the last of his line. He's never even heard of Crossroads, Texas, until he inherits land there. Riding in on his vintage Harley-Davidson, Blade finds a weathered ranch house, an empty prairie and a dark river that cuts a decisive path between the Hamiltons' land and that of their estranged neighbors.
When Dakota helps a stranger on the roadside, she isn't prepared for the charisma of the man on the motorbike—or for the last name he bears: Hamilton, of her family's sworn enemies, representing all she's been raised to loathe. The problem is, it looks like Blade is in town to stay, and there's something about his wolf-gray eyes she just can't ignore.
Lauren Brigman feels adrift. Unhappy in work and unlucky in love, she knows she ought to be striving for more, but she's never truly at peace unless she's at home in Crossroads. If the wider world can't satisfy her, is home truly where her heart is?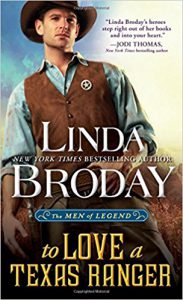 To Love a Texas Ranger (Men of Legend)
by Linda Broday
From the Book Description
Gravely injured on the trail of a notorious criminal, Texas Ranger Sam Legend boards a train bound for his family ranch to recuperate – only to find himself locked in battle to save a desperate woman on the run. Determined to rescue the beautiful Sierra, Sam recruits an unlikely ally. But can he trust the mysterious gunslinger to fight at his side?
Sam is shocked to discover his new ally is not only an outlaw, but his half-brother. Torn between loyalty to his job and love of his family, Sam goes reeling straight into Sierra's arms. Yet just as the walls around his battered heart begin to crumble, Sierra is stolen away. Sam will risk anything to save her―his life, his badge, his very soul―knowing that some bonds are stronger than the law…and some legends were born to be told.