Storytimes –
Monday evenings at 5:30 pm
Wednesdays at 10:00 am
Saturdays at 11 am in English and 11:30 in Spanish
Movie Time
On Tuesday, September 19th at 4:30 pm, come to the library and enjoy a movie and free popcorn! A plumber named Mario travels through an underground labyrinth with his brother, Luigi, trying to save a captured princess.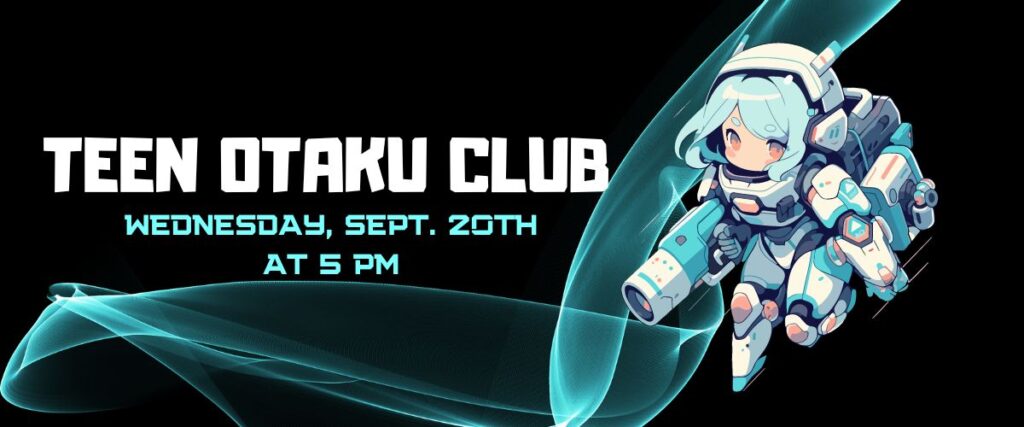 Teen Otaku Club
Do you love anime and manga and are in middle or high school? Then come to our Teen Otaku Club meeting.
On Wednesday, September 20th at 5 pm, we will meet to watch and discuss anime!
Sign up in advance to get a free sticker at the meeting! Join us for your chance at an anime door prize and fun anime/manga discussion.
Game day
On Thursday, September 21st starting at 4 pm, join us to play video games, board games and card games. This event is open to all ages, bring a friend or family member to try out a new game!
Mahjong
We are now offering a 10 am Wednesday game session!
Are you interested in learning a new game to play with family and friends? Every Wednesday at 10 am and Friday at 1 pm, we will get together for a fun game of Mahjong here at the library. Think Gin Rummy using tiles! Learn the rules of this traditional Chinese game and play some Mahjong. No experience necessary. For adults only.
Books, Coffee & Donuts
On Wednesday, October 4th starting at 9 am, come to the library to chat with our staff over coffee and donuts about new releases and new events happening that month.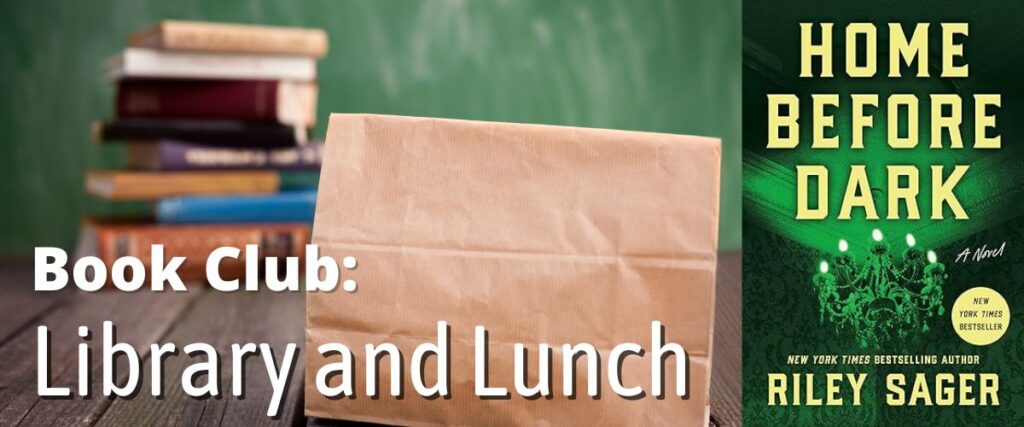 Library and Lunch
On Tuesday, October 10th​ at 12pm, our book club will meet to discuss "Home Before Dark" by Riley Sager. Bring your lunch and join the discussion.
Cozy Mysteries
Now that our evenings are starting to cool off, I'm inclined to curl up with a good book and maybe some fresh baked cookies or muffins.
Come in and check out our Cozy Mysteries book display. Here are a few cozy mysteries to choose from: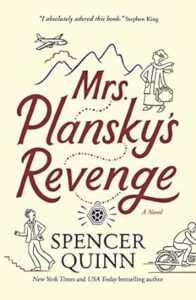 Mrs. Plansky's Revenge
by Spencer Quinn
Mrs. Loretta Plansky, a recent widow in her seventies, is settling into retirement in Florida while dealing with her 98-year-old father. One night Mrs. Plansky is startled awake by a phone call from a voice claiming to be her grandson Will, who desperately needs ten thousand dollars to get out of a jam. Of course, Loretta obliges―after all, what are grandmothers for.
By morning, Mrs. Plansky has lost everything. Law enforcement announces that Loretta's life savings have vanished, and that it's hopeless to find the scammers behind the heist. First humiliated, then furious, Loretta Plansky refuses to be just another victim.
In a courageous bid for justice, Mrs. Plansky follows her only clue on a whirlwind adventure to a small village in Romania to get her money and her dignity back―and perhaps find a new lease on life, too.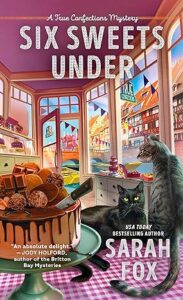 Six Sweets Under (A True Confections Mystery)
by Sarah Fox
Former actress Becca Ransom lived her dream in Hollywood for seven years before returning to her hometown of Larch Haven where Becca is pursuing her newest passion as a chocolatier at True Confections, the chocolate shop owned by her grandparents, Lolly and Pops.
While Becca's testing new flavors and reconnecting with old friends, the town is gearing up for the annual Gondola Races, popular with both residents and tourists, with one exception, local curmudgeon Archie Smith.
Following a heated argument with Pops, Archie is found floating face-down in the canal, and Pops finds himself in hot water as one of the top suspects. Becca's determined to clear her grandfather's name, but when the case heats up, she could be facing a sticky end.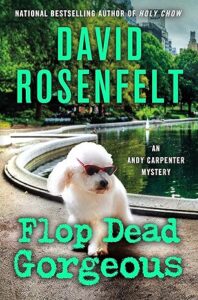 Flop Dead Gorgeous: An Andy Carpenter Mystery
by David Rosenfelt
Retired lawyer Andy Carpenter remembers every dog that's come through the Tara Foundation's doors, but the most well-known alum of the dog rescue organization may be Mamie. Adopted by famous actress Jenny Nichols―Andy's high school girlfriend―the miniature French poodle is now practically a starlet in her own right.
Andy and his wife, Laurie, have dinner with Jenny while she's in town filming her next big hit. But after an eventful meal, Jenny's costar is found dead, a knife in his back. It's not long before Jenny is arrested for the murder and finds herself in need of Andy's legal services.
While Mamie becomes reacquainted with Tara, Andy's golden retriever, Andy digs into the lives of the rich and famous.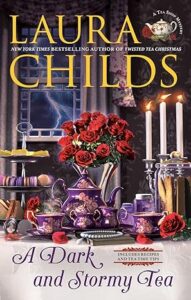 A Dark and Stormy Tea (A Tea Shop Mystery)
by Laura Childs
A possible serial killer on the loose sends tea maven Theodosia Browning into a whirlwind of investigation in this latest installment of the New York Times bestselling series.
As she approaches St. Philips Graveyard, Theodosia sees two figures locked in a strange embrace. Wiping rain from her eyes, Theodosia realizes she has just witnessed a brutal murder and sees a dark-hooded figure slip away into the fog.
While alerting police, Theodosia recognizes the victim—it is the daughter of her friend, Lois, who owns the Antiquarian Bookshop next door to her own Indigo Tea Shop.
Even though this appears to be the work of a serial killer who is stalking the back alleys of Charleston, Lois begs Theodosia for help. Against the advice of her boyfriend, Detective Pete Riley, amateur-sleuth Theodosia launches her own shadow investigation.