Since tomorrow is Martin Luther King, Jr. Day, I thought I would tell you about some Children's books about him: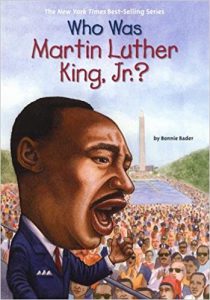 Who Was Martin Luther King, Jr.? by Bonnie Bader: Dr. Martin Luther King, Jr. was only 25 when he helped organize the Montgomery Bus Boycott and was soon organizing black people across the country in support of the right to vote, desegregation, and other basic civil rights.
Maintaining nonviolent and peaceful tactics even when his life was threatened, King was also an advocate for the poor and spoke out against racial and economic injustice until his death – from an assassin's bullet – in 1968.
With clearly written text that explains this tumultuous time in history and 80 black-and-white illustrations, this book celebrates the vision and the legacy of a remarkable man.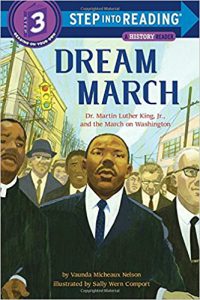 Dream March: Dr. Martin Luther King, Jr., and the March on Washington by Vaunda Micheaux Nelson: Young readers can now learn about one of the greatest civil rights leaders of all time, Dr. Martin Luther King, Jr., in this Level 3 Step into Reading Biography Reader.
Set against Dr. King's historic march on Washington in the summer of 1963, a moving story and powerful illustrations combine to illuminate not only one of America's most celebrated leaders, but also one of America's most celebrated moments.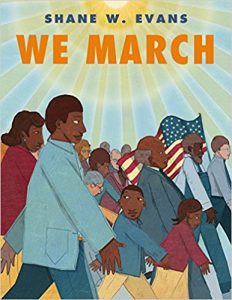 We March by Shane Evans: On August 28, 1963, a remarkable event took place–more than 250,000 people gathered in our nation's capital to participate in the March on Washington for Jobs and Freedom.
The march began at the Washington Monument and ended with a rally at the Lincoln Memorial, where Martin Luther King Jr. delivered his historic "I Have a Dream" speech, advocating racial harmony. Many words have been written about that day, but few so delicate and powerful as those presented here by award-winning author and illustrator Shane Evans.
When combined with his simple yet compelling illustrations, the thrill of the day is brought to life for even the youngest reader to experience.
The library will be closed tomorrow (Monday) for Martin Luther King, Jr. Day. But, we still have some fun events coming up in the next few weeks:
Budding Bookworms Storytimes are Tuesdays at 11 am and Thursdays at 6 pm! Join us for stories, songs, crafts, and more! Plus, every child gets a free book to take home at every storytime.
Do your kids need something to do when they're out of school on the 25th and 26th? Don't worry, the Library has you covered! Thursday the 25th at 2 pm, build something great at Lego Day! Friday the 26th at 1 pm, join us for board games, followed by a fun children's animated movie at 2 pm. Free popcorn and drinks will be served during the movie.
Recipe swap is on Tuesday the 30th at 6:30 pm! Bring something you've made (along with the recipe) to share and enjoy everyone else's dishes! This month, to help us keep our New Year's Resolutions, we're making healthy foods.