Are you determined to make 2022 better than 2021? Is your resolution to get healthy? Eat better? Develop a more positive outlook? Check out our New Year's Resolutions book display to find some inspiration.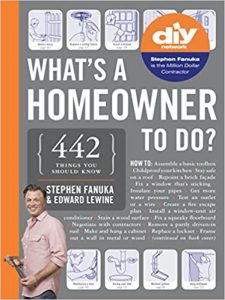 What's a Homeowner to Do?
by Stephen Fanuka and Edward Lewine
With hundreds of clear, helpful illustrations, this essential reference covers such topics as how to install a ceiling fan; determining the right amount of paint to buy; how to repair a loose stair tread; choosing the proper child safety gate; and many more.
More importantly, you'll get expert advice on when a repair is something you can do yourself and when it's best executed by a professional. In the process, you'll learn more than enough to speak knowledgeably about any problem with a hardware store clerk, a repairman, or a contractor.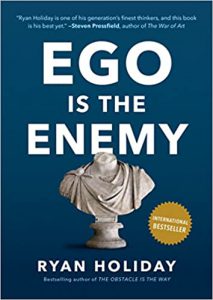 Ego Is the Enemy
by Ryan Holiday
Ego Is the Enemy draws on stories and examples, from literature to philosophy to his­tory. We meet fascinating figures who all reached the highest levels of power and success by con­quering their own egos. Their strategies and tactics can be ours as well.
In an era that glorifies social media, reality TV, and other forms of shameless self-promotion, the battle against ego must be fought on many fronts. Armed with the lessons in this book, as Holiday writes, "you will be less invested in the story you tell about your own specialness, and as a result, you will be liberated to accomplish the world-changing work you've set out to achieve."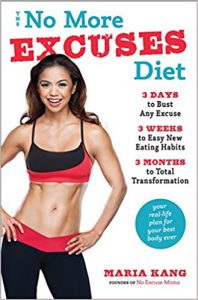 The No More Excuses Diet: 3 Days to Bust Any Excuse, 3 Weeks to Easy New Eating Habits, 3 Months to Total Transformation
by Maria Kang
We all know that we should exercise and eat right, so why is it so hard to follow through? We make excuses for why we aren't taking better care of ourselves, saying things like, "I'm too tired," "I don't have time," or "I'm just not built to look that way."
The No More Excuses Diet combines short term goals with healthy habit-forming behaviors to create permanent lifestyle changes. Using a specially designed transformation calendar, readers set clear, personal goals and make an easy-to-follow plan for each day.
The No More Excuses Diet also provides a completely customizable workout guide, with over 50 illustrated exercises designed to build strength, flexibility, endurance, and to shed fat.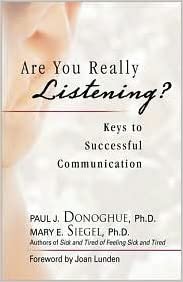 Are You Really Listening?: Keys to Successful Communication
by Paul J. Donoghue and Mary E. Siegel
Listening is an essential skill worth every effort to learn and to master. Listening takes us out of our tendency toward self-absorption and self-protection. It opens us to the world around us and to the persons who matter most to us. When we listen, we learn, we grow, and we are nourished.
Why do we often feel cut off when speaking to the people closest to us? What is it that keeps so many of us from really listening? Practicing psychotherapists, Donoghue and Siegel answer these questions and more in this thoughtful, witty, and helpful look at the reasons why people don't listen. Filled with vivid examples that clearly demonstrate easy-to-learn listening techniques, Are You Really Listening? is a guide to the secrets and joys of listening and being listened to.

hoopla BingePass
hoopla BingePass gives Library patrons unlimited access to collections of streaming content for 7 days…with a single borrow. It's a new way to explore great online content—and a lot of it!
BingePass launched with the introduction of hoopla Magazines and The Great Courses Video Library Collection and the Curiosity Stream BingePass is coming late January.
hoopla Magazines offers 50 popular and in-demand magazines for all ages and interests, such as HGTV, Elle, Popular Mechanics, Fast Company, Inc., Men's Health, Time for Kids, Woman's Day, Runner's World, and many more. These 50 titles are just the beginning—the catalog will evolve and grow steadily over time.
The Great Courses BingePass offers a collection of popular courses curated specifically for Libraries. The collection features more than 300 courses, with each containing numerous lectures. That means patrons can access thousands of learning sessions with a single hoopla Instant borrow.
The Curiosity Stream BingePass will give access to the Curiosity Stream platform that showcases all their documentaries and nonfiction series! With a single hoopla Instant borrow, Library patrons can watch thousands of high-quality videos about science, history, technology, nature, society, and lifestyle, plus some great content for kids! Watch films like The Year That Rocked the World, Royals: Keeping the Crown, Rescued Chimpanzees of the Congo with Jane Goodall, Ancient Engineering, Underworld, Psychology of Con Artists, and thousands more.
All Liberal Memorial Library patrons can sign up for a free hoopla account. If you haven't signed up yet, call 626-0180 or come in and we can help you get started.