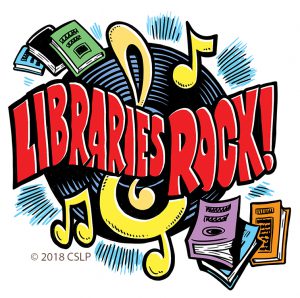 The Summer Reading Program theme for this year is "Libraries Rock!" We will have a lot of music in our events this June & July! Here's what's coming up this summer:
Kids ages 0-11 can sign up for Summer Reading Program now at the library or on our website.
No sign-up necessary for young adults (ages 12-19) to participate in our Summer Reading Program! When a young adult checks out a book or comes to a Summer Reading Event, they get a scratch off ticket! (Limit two tickets per person per day.) Most scratch tickets are prize winners. The ones that are not winners are entered to win the grand prize! We have a variety of prizes, including fidget cubes, small speakers, and earbuds.
Adults, complete the stops on our Summer Reading World Tour for prizes! Watch our website for fun summer activities! Watch movies, make crafts, and listen to music.
This Saturday at 1:30 pm, Poppa D. Clown will present a musical program for our Summer Reading Kickoff! Free popcorn and drinks will be served.
USD 480 is serving free lunches for kids ages 1-18 at the library starting on Monday, June 4. Lunches will be served Monday – Friday, 11:30 am
Ages 12 & up can join us for weekly games of Yu-Gi-Oh on Mondays at 6 pm, starting next week!
Starting June 5, we will have three weekly storytimes, featuring stories, songs, and a craft! Storytime for ages birth – 3 years old is on Tuesdays at 11 am, ages 4 – 6 years on Thursdays at 11 am, and all ages on Thursdays at 6 pm. Every child gets a free book at every storytime!
Mad Science will be here on Tues., June 5 at 1:30 pm to show kids the science of sound.
We will have Video Game Day for ages 12 & up on Wednesdays at 4 pm! Plus, we will have a craft for ages 12 & up every other Wednesday at this time.
Starting June 8, every Friday is Funday at 2 pm! We'll be watching movies, building with Legos, playing Video Games, making crafts, and enjoying free refreshments.
The next Library and Lunch is on Tuesday, June 12 at noon. Bring your lunch and join us for a discussion of the book Orphan Train by Christina Baker Kline.
Smokey Hills PBS is coming to the library on Wed., June 14 at 1:30 pm with a Daniel Tiger storytime for ages 3-7!
Get your hair styled like a Rock Star on Mon., June 18th at 1:30 pm!
Dan Dan the Magic Man puts on a magical, musical show on Friday, June 29 at 2 pm!
Musician Aaron Fowler will be at the library on Thursday, July 12 at 11 am! Music, movement, and stories for ages 4 and up.
Learn about Native American dances and traditions on Tuesday, July 17 at 2 pm! Ken Dixon and Regina Smith will be at the library for this special event.
Our End of Summer Reading Party will be on Saturday, July 28 at 1 pm. Enjoy ice cream and celebrate all you've done over the summer!