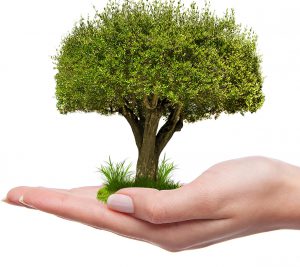 What's happening this week at the Library
Tuesday at 11am Storytime – Stories, songs, crafts, and more! Plus, every child gets a free book to take home at every storytime. Story times are open to children of all ages.
Tuesday at 6:30 pm Recipe Swap – Bring something you've made (along with the recipe) to share and enjoy everyone else's creations! Every month is a different theme! This month's theme is comfort foods.
Thursday at 6 pm Storytime – If you can't make it to the morning storytime on Tuesday, you can come to the evening Thursday one instead.
Friday at 1 pm Games and a Movie – Play board and card games at 1:00 p.m. followed by a fun new family friendly movie at 2:00 p.m.
Saturday at 1:30 pm Dia de los ninos & Dia de los libros – Children and their parents, come to our Día de los niños / Día de los libros (Children's Day / Book Day) celebration! Make crafts, play games, and eat free snacks! Plus, every child gets a free book to take home.

Earth Day
On April 22 of every year, we celebrate our home, the planet Earth, and recognize the need protect our environment. Earth Day began in 1970, partly in response to a massive oil spill that took place in 1969. Since then Earth Day has spread across the globe. More than a billion people worldwide now celebrate it.
If you want to learn more about how to reduce your negative impact on the environment, here are a few books from our Earth Day display that could be enlightening and entertaining.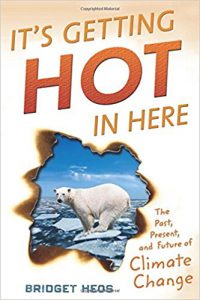 It's Getting Hot in Here: The Past, Present, and Future of Climate Change
by Bridget Heos
From the book description
Temperatures are inching up. Glaciers are melting. Ocean levels are rising. The climate is changing – and it's only going to get worse from here. Because the past affects the present and everything we do today will turn directly affect what happens to our planet and its inhabitants in the future.
We are changing our global environment – but it's not too late to take action now to ensure a brighter future for us all.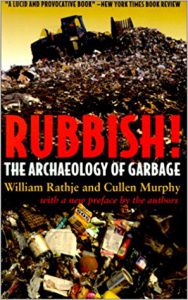 Rubbish!: The Archaeology of Garbage
by William Rathje
From the book description
It is from the discards of former civilizations that archaeologists have reconstructed most of what we know about the past, and it is through their examination of today's garbage that William Rathje and Cullen Murphy inform us of our present.
"Rubbish!" is their witty and erudite investigation into all aspects of the phenomenon of garbage. Rathje and Murphy show what the study of garbage tells us about a population's demographics and buying habits.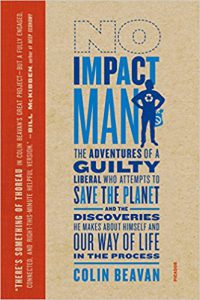 No Impact Man: The Adventures of a Guilty Liberal Who Attempts to Save the Planet, and the Discoveries He Makes About Himself and Our Way of Life in the Process
by Colin Beavan
From the book description
Is it really possible to live eco-effectively?
With No Impact Man, Colin Beavan tries to find out. He swears off plastic, goes organic, becomes a bicycle nut, turns off his power, and generally tries to save the planet from environmental catastrophe while dragging his young daughter and his Prada-wearing wife alone for the ride.
He is No Impact Man, and this is his adventure.
Kids can be even more enthusiastic than their parents when it comes to caring for the planet. Here is a classic for young readers that is just as informative and fun now as when it was new.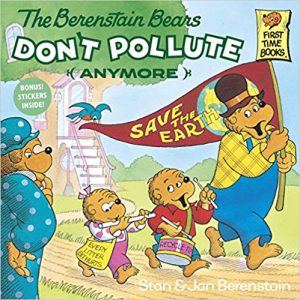 The Berenstain Bears Don't Pollute (Anymore)
by Stan Berenstain and Jan Berenstain
From the Book description
When careless citizens pose a threat to Bear Country's environment, Brother and Sister Bear form the Earthsavers Club. Their spirited ecological efforts deliver a timely message about the urgent need to mend our polluting and wasteful ways.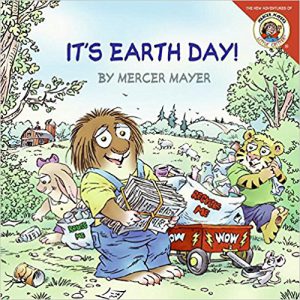 It's Earth Day!
by Mercer Mayer
From the Book description
Little Critter is on a mission! After watching a film about climate changes at school, Little Critter decides to do his part to slow down global warming. With the help of his family and friends, Little Critter begins to reduce, reuse, and recycle. Together they learn about the importance of not wasting water or energy. Join Little Critter as he plants a tree, makes a climate control machine, and helps the polar bears.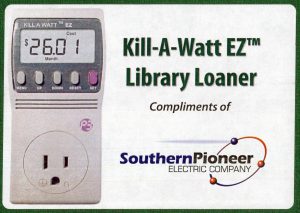 Check out a Kill-A-Watt EZ power meter
Have you ever wondered how much electricity your TV, DVD player, sound system, or household appliances consume? Even when you are not activity using them? Just how much money could you save by unplugging your computer or TV when you're done with them? You can find out by using a Kill-A-Watt EZ power meter, available for checkout from the library compliments of Southern Pioneer Electric Company.
Plug the Kill-A-Watt EZ into your electrical outlet and follow the included instructions to reset it for use. Plug whatever devices you want to test into Kill-A-Watt EZ to find out just how much they cost you in dollars and cents a month.