This Week
Tuesday at 11 am Storytime – Stories, songs, crafts, and more! Plus, every child gets a free book to take home at every storytime. Story times are open to children of all ages.
Tuesday at 6:30 pm Recipe Swap – Bring something you've made (along with the recipe) to share and enjoy everyone else's creations! Every month is a different theme! This month's theme is "Sandwiches".
Thursday at 5:30 pm Storytime – If you can't make it to the morning storytime on Tuesday, you can come to the evening Thursday one instead.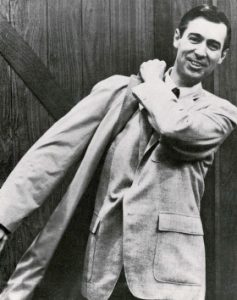 More Events
Saturday, Sept. 8th at 2 p.m. Movie Night – Come see the latest installment of the adventures of your friendly neighborhood web-slinger.
Wednesday, the 12th, at 6 p.m. Movie Night – visit Mr. Roger's neighborhood in this documentary by filmmaker Morgan Neville. It's been 50 years since beloved children's TV host Fred Rogers started entertaining and educating with his half-hour show. This documentary explores his life and philosophy and has quickly become the highest-grossing biographical documentary of all-time.
Saturday, September 15th at 1:30 p.m. Mexican Independence Day Party – Celebrate Mexican Independence Day at the library. There will be crafts, games and snacks. Registration is limited, so signup online today at http://lmlibrary.org
Saturday, September 22nd at Noon Hobbit Day – Celebrate Bilbo and Frodo's birthday with us by watching the first movie of the trilogy and enjoy other fun activities and snacks.
Kansas Notable Books
Every year the Kansas State Library chooses a new list of Kansas Notable Books that are either written by Kansas authors or about a Kansas related topics. Below are a few of this year's new notable books.
You can find the complete list of books on the Kansas State Library website https://kslib.info. You can also find them on our library catalog http://featured.lmlibrary.org or by using the new library catalog app "Library Mobile".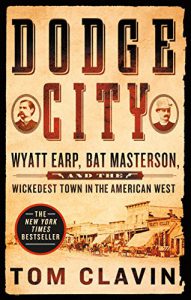 Dodge City: Wyatt Earp, Bat Masterson, and the Wickedest Town in the American West
by Tom Clavin
From the Book Description
The true story of how two gunfighters brought law and order to Dodge City, the most depraved and criminal town in the nation.
Dodge City, Kansas, is a place of legend. The town that started as a small military site exploded with the coming of the railroad, cattle drives, eager miners, settlers, and various entrepreneurs passing through to populate the expanding West. Before long, Dodge City's streets were lined with saloons and brothels and its populace was thick with gunmen, horse thieves, and desperadoes of every sort. By the 1870s, Dodge City was known as the most violent and turbulent town in the West.
Enter Wyatt Earp and Bat Masterson. Young and largely self-trained men, the lawmen led the effort that established frontier justice and the rule of law in the American West, and did it in the wickedest place in the United States.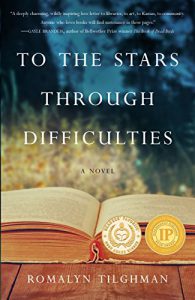 To The Stars Through Difficulties: A Novel
by Romalyn Tilghman
After the small town of Prairie Hill, Kansas is destroyed by a tornado, three women – Angelina, Traci, and Gayle are determined to create a library and arts center as the first act of rebuilding the neighboring town. They are inspired by an old journal where they read about the frontier women who worked to raise money for books to fill the fifty-nine newly build Carnegie libraries.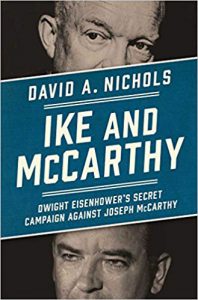 Ike and McCarthy: Dwight Eisenhower's Secret Campaign against Joseph McCarthy
by David A. Nichols
From the Book Description
In January 1954 Senator Joseph McCarthy was one of the most powerful members of the U.S. Senate. By the end of that year he had been censured by his colleagues, and his power was shattered. Ike and McCarthy is the dramatic story of how President Dwight Eisenhower worked behind the scenes to make this happen.
When Eisenhower took office in January 1953, anticommunist fervor was at a fever pitch. The loudest voice was McCarthy's, charging that the government was riddled with communist spies. Ike thought that McCarthy's accusations were dangerously irresponsible… David A Nichols tells the riveting and little-known story of how Eisenhower and his advisers carefully plotted their successful effort to diminish McCarthy's influence.