Even though Summer Reading is over, there is still a lot going on here at the library including a Harry Potter Birthday party for all ages!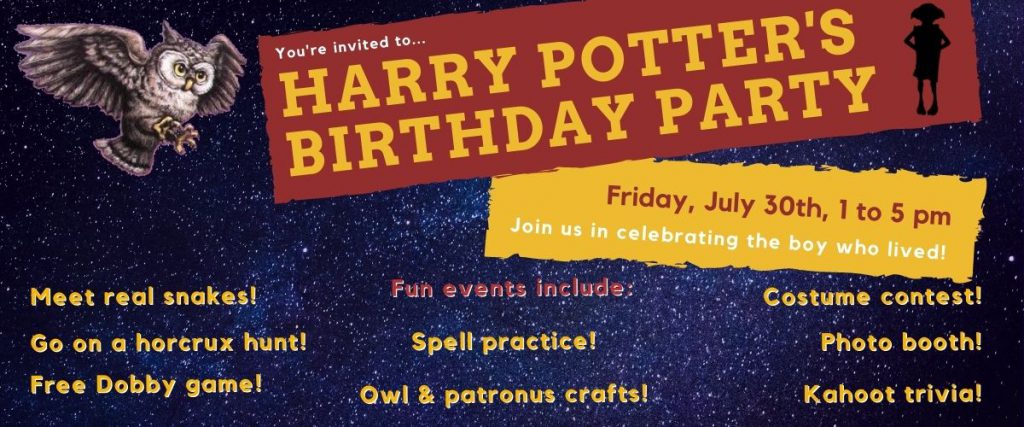 Harry Potter Birthday party
On Friday July 30th from 1pm to 5pm, we will celebrate Harry Potter's Birthday with games, crafts, a photo booth, a costume contest, and a visit from live snakes!
The party will start off with a visit from some snakes. Harry has many encounters with snakes over the years; we will get to see a snake presentation and meet a few.
After that, we will be hosting several games to get you in the spirit:
Let's go on a Horcrux Hunt – a scavenger hunt for Voldemort's seven horcruxes. There will be clues to help lead the way and the one who finds them all will get a reward!
Are you a member of SPEW, the Society for the Protection of Elfish Welfare? Join us in freeing house elves with a game of sock toss!
Need to practice your levitation spell? Whoever can levitate the balloon the longest will get a prize, every player will get a free wand (while supplies last).
Think you know the most about the boy who lived? Play some trivia with us on your own device with Kahoot. A prize will be awarded to the winner.
We will also have crafts! Paint your own pet owl rock or cast a patronus onto paper to take home.
While all this is going on, we will have a photo booth and costume contest! Come in your best outfit that references the Wizarding World of Harry Potter and you could get a prize for best dressed!
More Events
Storytimes – Wednesdays at 10:00 a.m and again on Monday evenings at 5:30
Kernel Club – Thursdays at 4 pm
Kids,become a member of the Kernel Club and learn about Kansas Farms and how they grow corn. The Kernel Club will meet every Thursday, from July 15th to August 12th at 4 pm.
We will have a short lesson, do a corn themed craft and eat a corn based snack.
Facebook Storytimes – Fridays at 4 pm
Game Day – Tuesday, July 20th at 3 pm
Kids and teens, unleash your inner gamer with a mix of video and board games available to play at the library!
Teen Otaku Club – Wednesday, July 21st at 4 pm
This month we are discussing the manga & anime Blue Exorcist. Sign up to get a copy of the manga to read in advance and save your spot for the meeting. There will be a door prize and a box of pocky for each person that signs up!
Game Day for Adults – Thursday, July 22nd at 2 pm
Hang out with other adults and play board games and card games. For adults only. Signup online or at the Circulation desk.
Movie Time – Tuesday, July 27th at 4pm
Watch this new computer-animated urban fantasy adventure film with us. It was produced by Pixar Animation Studios and released by Walt Disney Pictures last year.

On Ian's sixteenth birthday, his mother gives her two sons a gift from their father, a letter describing a "visitation spell" that can resurrect someone for a single day.
The two brothers set out on a quest to find an artifact, so Ian can visit with his father, who died before Ian was born.
Dog Days book display
The Dog Days of Summer are here again. The typically hot and humid time of the year when the Sun occupies the same region of the sky as Sirius, the Dog Star. It's also an excellent time to showcase some of our dog themed books. For more dog themed books, come in and check out our book display.
Animal Instinct: A K Team Novel 
by David Rosenfelt 
Corey Douglas and his K-9 partner, a German shepherd named Simon Garfunkel, are recently retired police officers turned private investigators. Along with fellow former cop Laurie Collins and her investigating partner, Marcus, they call themselves the K Team, in honor of Simon.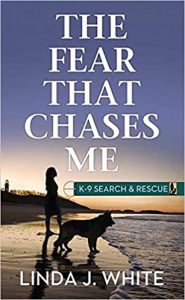 The Fear That Chases Me: K-9 Search and Rescue
by Linda J White
Jessica Chamberlain and her search-and-rescue dog, Luke, hunt for lost people in the Tidewater area of Virginia. But that's a side hustle: Jess's work as a private investigator pays the bills. Right now, she's looking for a girl missing for twenty years and the truth about a man's suicide. When someone runs her off the road and her house burns down, she could take the hint and leave—but she won't.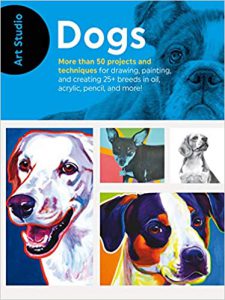 Art Studio: Dogs: More than 50 projects and techniques for drawing, painting, and creating 25+ breeds in oil, acrylic, pencil, and more!
Created especially with beginning artists and art enthusiasts in mind, this engaging book includes a variety of fun and unique drawing, painting, and mixed media projects designed to help you transform your love of canines into beautiful works of art.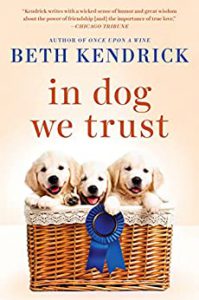 In dog we trust
by Beth Kendrick.
When Jocelyn Hillier is named legal guardian for the late Mr. Allardyce's pack of pedigreed Labrador retrievers, her world is flipped upside down. She never expected to be living a pampered life in an ocean side mansion, complete with a generous stipend. But her new role isn't without its challenges: The dogs (although lovable) are more high-maintenance than any Hollywood diva, and she's confronted at every turn by her late benefactor's estranged son, Liam, who thinks he's entitled to the inheritance left to the dogs.
Jocelyn has worked too hard to back down without a fight, and she's determined to keep her new fur family together. As she strives to uphold the "Best in Show" standards her pack requires, Jocelyn finds love, family, and forgiveness in the most unexpected places.