Upcoming events this week
How to Crochet 101
Our first "How to Crochet 101" class will be held tomorrow.  The class will be led by Leslie Bissell, who will show us how to do four basic stitches and how to read a pattern. The classes will continue on November 2nd, 9th, and 16th at 6:00 p.m. to 7:30 p.m. Unfortunately the class is already full, so we can't take any last minute sign-ups.
Movie Night (Adults)
This Tuesday at 6:00 p.m. will be the Movie Night for Adults. Have a night out with other adults, enjoy a movie and discuss it afterward.
Family Halloween Party
The library will have a Halloween party this Saturday from 10:00 a.m. to 1:00 p.m. It will be a chance for the kids to show off their costumes, collect some candy, play great games, and win prizes. We'll have snacks and a chance to build your own monster!
Spooky New Books
Speaking of Halloween, here are a few spooky new fiction books for you to enjoy.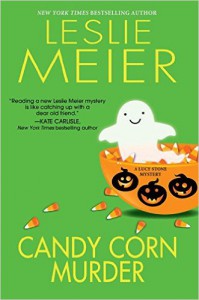 Candy corn murder
by Leslie Meier
From the book description
Halloween is coming to Tinker's Cove, Maine, and local reporter Lucy Stone is covering the town's annual Giant Pumpkin Fest for the Pennysaver. There's the pumpkin-boat regatta, the children's Halloween party, the pumpkin weigh-in…even a contest where home-built catapults hurl pumpkins at an old Dodge! But not everything goes quite as planned…
Lucy's getting very annoyed that her husband Bill and his friend Evan have been working seemingly nonstop on their potentially prize-winning pumpkin catapult. But when the day of the big contest arrives, Evan is nowhere to be found…until a catapulted pumpkin busts open the trunk of the Dodge. Amid the pumpkin gore is a very deceased Evan, bashed in the head and placed in the trunk by someone long before the contest started.
Bill is on the hook for the Halloween homicide—he was the last one to see Evan—so Lucy knows she's got some serious sleuthing to do…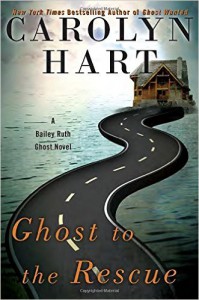 Ghost to the Rescue
by Carolyn Hart.
From the book description
When you wish upon a star, you get…Bailey Ruth? You do if you're a little girl whose mom needs help and you touch the soft heart of Supervisor Wiggins at Heaven's Department of Good Intentions. Granted it's not the usual task of an emissary, but then again Bailey Ruth is not your usual emissary. So Wiggins dispatches the spunky spirit to her old hometown of Adelaide, Oklahoma, to help a single mother and struggling writer find some creative solutions to her problems.
Deidre Davenport is just about broke, trying to support her two children, and has her hopes pinned on getting a faculty job with the Goddard College English department. Jay Knox, who is in charge of the writer's conference she's participating in, will decide who gets the job, but he's more interested in her body than her body of work.
Not long after his advances are rejected, Knox turns up dead—and Deirdre's fingerprints are found on the murder weapon. Bailey Ruth knows Deirdre is innocent. Now she must find out who really knocked off Knox…if Deirdre and her family are ever going to have a happy ending.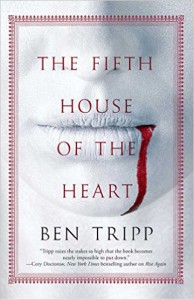 The fifth house of the heart
by Ben Tripp.
From the book description
Filled with characters as menacing as they are memorable, this chilling twist on vampire fiction packs a punch in the bestselling tradition of 'Salem's Lot by Stephen King.
Asmodeus "Sax" Saxon-Tang, a vainglorious and well-established antiques dealer, has made a fortune over many years by globetrotting for the finest lost objects in the world. Only Sax knows the true secret to his success: at certain points of his life, he's killed vampires for their priceless hoards of treasure.
But now Sax's past actions are quite literally coming back to haunt him, and the lives of those he holds most dear are in mortal danger. To counter this unnatural threat, and with the blessing of the Holy Roman Church, a cowardly but cunning Sax must travel across Europe in pursuit of incalculable evil—and immeasurable wealth—with a ragtag team of mercenaries and vampire killers to hunt a terrifying, ageless monster…one who is hunting Sax in turn.