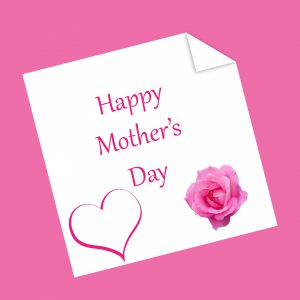 What's happening this week at the Library
Tuesday at 11am Storytime – Stories, songs, crafts, and more! Plus, every child gets a free book to take home at every storytime. Story times are open to children of all ages.
Thursday at Noon Bunco – Come Join the Bunco Party! Seating is limited so sign up now. (Snacks will be served). Bunco is a popular game played with nine dice and a whole lot of luck. It requires twelve players.
Thursday at 4 pm Water Candle craft for adults – Make a water candle! Seating is limited, so sign up at the front desk. Adults only.
Thursday at 6 pm Storytime – If you can't make it to the morning storytime on Tuesday, you can come to the evening Thursday one instead.
Mother's Day
Happy Mother's Day to all of you Moms out there. I hope you were able to make it to our Mommy & Me teatime with your younger kids yesterday.
You deserve a break on your special day. If you're looking for a good read, check out our "Chick Lit" book display. It includes old favorites and new. Here are a few examples: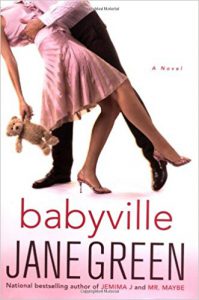 Babyville
by Jane Green
From the book description
Meet Julia, a wildly successful television producer who appears to have the picture-perfect life. But beneath the surface, things are not as perfect as they seem. Stuck in a loveless relationship with her boyfriend, Mark, Julia thinks a baby is the answer . . . but she may want a baby more than she wants her boyfriend.
Maeve, on the other hand, is allergic to commitment. A feisty, red-haired, high-power career girl, she breaks out in a rash every time she passes a stroller. But when her no-strings-attached nightlife leads to an unexpected pregnancy, her reaction may be just as unexpected.
And then there's Samantha – happily married and eager to be the perfect June Cleaver mother. But baby George brings only exhaustion, extra pounds, and marital strife to her once tidy life. Is having an affair with a friend's incredibly sexy husband the answer?
By turns witty, rollicking, and tender, Babyville isn't really a story about babies it's about three friends whose lives are suddenly turned upside-down by that life-changing event that hangs over the head of every single girl: motherhood.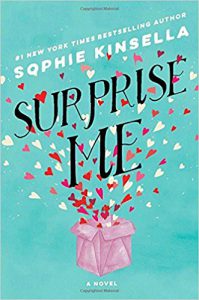 Surprise Me
by Sophie Kinsella
From the book description
After ten years together, Sylvie and Dan have a comfortable home, fulfilling jobs, and beautiful twin girls, and they communicate so seamlessly they finish each other's sentences. They have a happy marriage and believe they know everything there is to know about each other. Until it's casually mentioned to them that they could be together for another sixty-eight years . . . and panic sets in.
They decide to bring surprises into their marriage to keep it fresh and fun. But in their pursuit of Project Surprise Me—from unexpected gifts to restaurant dates to sexy photo shoots—mishaps arise, with disastrous and comical results. Gradually, surprises turn to shocking truths. And when a scandal from the past is uncovered, they begin to wonder if they ever really knew each other at all.
With a colorful cast of eccentric characters, razor-sharp observations, and her signature wit and charm, Sophie Kinsella presents a humorous yet moving portrait of a marriage—its intricacies, comforts, and complications. Surprise Me reveals that hidden layers in a close relationship are often yet to be discovered.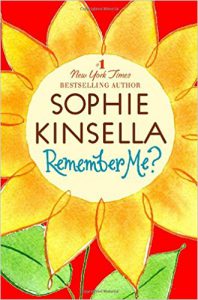 Remember Me?
by Sophie Kinsella
From the book description
When twenty-eight-year-old Lexi Smart wakes up in a London hospital, she's in for a big surprise. Her teeth are perfect. Her body is toned. Her handbag is Vuitton. Having survived a car accident—in a Mercedes no less—Lexi has lost a big chunk of her memory, three years to be exact, and she's about to find out just how much things have changed.
Somehow Lexi went from a twenty-five-year-old working girl to a corporate big shot with a sleek new loft, a personal assistant, a carb-free diet, and a set of glamorous new friends. And who is this gorgeous husband—who also happens to be a multimillionaire? With her mind still stuck three years in reverse, Lexi greets this brave new world determined to be the person she…well, seems to be. That is, until an adorably disheveled architect drops the biggest bombshell of all.
Suddenly Lexi is scrambling to catch her balance. Her new life, it turns out, comes complete with secrets, schemes, and intrigue. How on earth did all this happen? Will she ever remember? And what will happen when she does?